An Unwavering Dedication to Dharma
A Compassionate Mentor. A Mother Figure. A Wise Master.
Few can take on so many roles with as much grace as Khandro-la.
Khandro Namdrol Lhamo (affectionately known as Sangyum-la) has been an inspiration to many followers.
From business to Buddhism, she seamlessly integrates the Buddhadharma with everything she does.
Sangyum-la's kind benevolence has shone through in the many projects carried out under her leadership.
As they say, the best leaders are great teachers. Through her knowledge, attitude and actions, Sangyum-la teaches us what it really means to follow the Buddhadharma in every aspect of our life.

Khandro-la -
A Humanitarian at Heart.

It was the depth of her compassion and desire to do something more for the world that led her to Buddhism. Under the tutelage of Singha Rinpoche, Sangyum-la finally found her own unique expression. Combining her passion for giving back to society with the ageless wisdom of the Buddhadharma, Sangyum-la became the catalyst in driving change and transforming lives.

Since joining Thekchen Choling in 2002, Sangyum-la has led charity programs from the remote highlands of Ladakh, India, to the bustling neighbourhoods of Lavender Street in Singapore.
Hidden Benevolence in Action
Preferring to work behind the scenes, it is easy to miss Sangyum-la's presence despite her many duties at the temple.
Her rich experience in social outreach has guided the temple's many community programmes, and shaped the organisation's propagation of the Buddhadharma. Under her leadership, courses on the essential practices of Vajrayana Buddhism have been very well-received, and with the scope expanding every year.
Sangyum-la has also taken the youths of Thekchen Choling under her wing, carefully shaping them to become forward thinking leaders. With the help of the team she handpicked, Sangyum-la has developed a full suite of programmes that cater to the young, and young-at-heart. For over a decade, both the Dharma Junior and the Youth Group have molded
new generations of young Buddhists to become compassionate leaders.
A Master in Her Own Right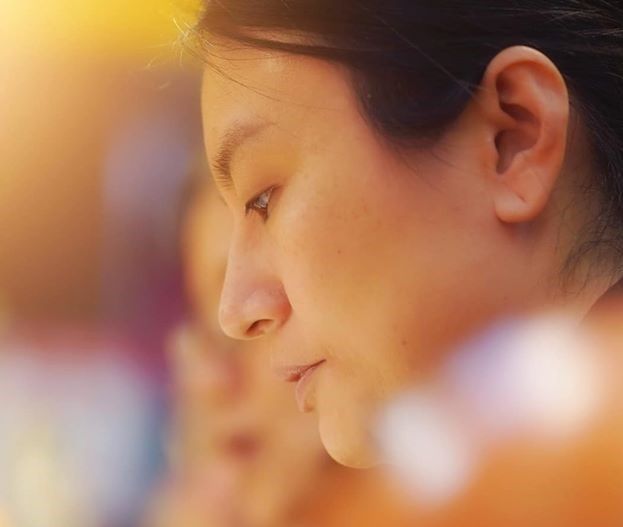 In addition to her responsibilities at Thekchen Choling, Khandrola is a certified Executive Coach and Life Coach. She also serves as an advisor to her father's fashion business, holds a degree in Physics, and is well-versed in the art of Fengshui. At home, she is the mother of three gregarious children.
Above all, Sangyum-la is a highly accomplished practitioner, taught by some of the most revered masters within the Vajrayana tradition.
She is also the custodian of the Dharma Jewel in Thekchen Choling Singapore, as appointed by the late Khensur Rinpoche Lama Lhundrup.
Her appointment was further endorsed by Kyabje Lama Zopa Rinpoche and Kyabje Jhado Rinpoche.
As a guardian of the Thekchen tradition, Sangyum-la is a shining example of true devotion
and female leadership – and a role model for us all.
Long Life Prayer of Khandro Namdrol Lhamo
Nam-Trang Gya-Tsay Rin-Chung Lha-Yi-Tsog
Khen-Tse Nu-Pey Thong-Thoe Thren-Dol-Wa
Lha-Tsok Nam-Ki Dhen-Pey Jin-Thu-Yi
Tse-Ring Ne-Mey Dhe-Jor Pe-Mo-Gye
Homage to the assembly of deities who are the source of a hundred varieties of preciousness.
By your knowledge, compassion and power that liberates from mere seeing and hearing.
From the blessing and power of truth of the assembly of deities.
May the lotus of long life, good health, happiness and prosperity blossom.
*Composed by H.E. Jhado Rinpoche
Prayer to Lord Chenresig
Homage to Lord Chenresig.
You are the compassion of all Buddhas and the wisdom one, please guide us, inspire us and protect us as your child.
With you, may we see compassion, hear compassion, feel compassion, speak compassion and act compassion.
May we become compassion just like you.
Please be our guide and may we flow in you and be you.
Om Ah Hung (3x)
*Specially composed by Khandro Namdrol Lhamo on 29 November 2018 at 0944