Coming Together
Reaching Out
As One

The Thekchen Choling spirit is very much about genuine and meaningful connections. From Guru Devotion, to friendships, social outreach projects and dharma activities, our footprints can be found in so many parts of the world.
With you in the picture, we will definitely be able to benefit more!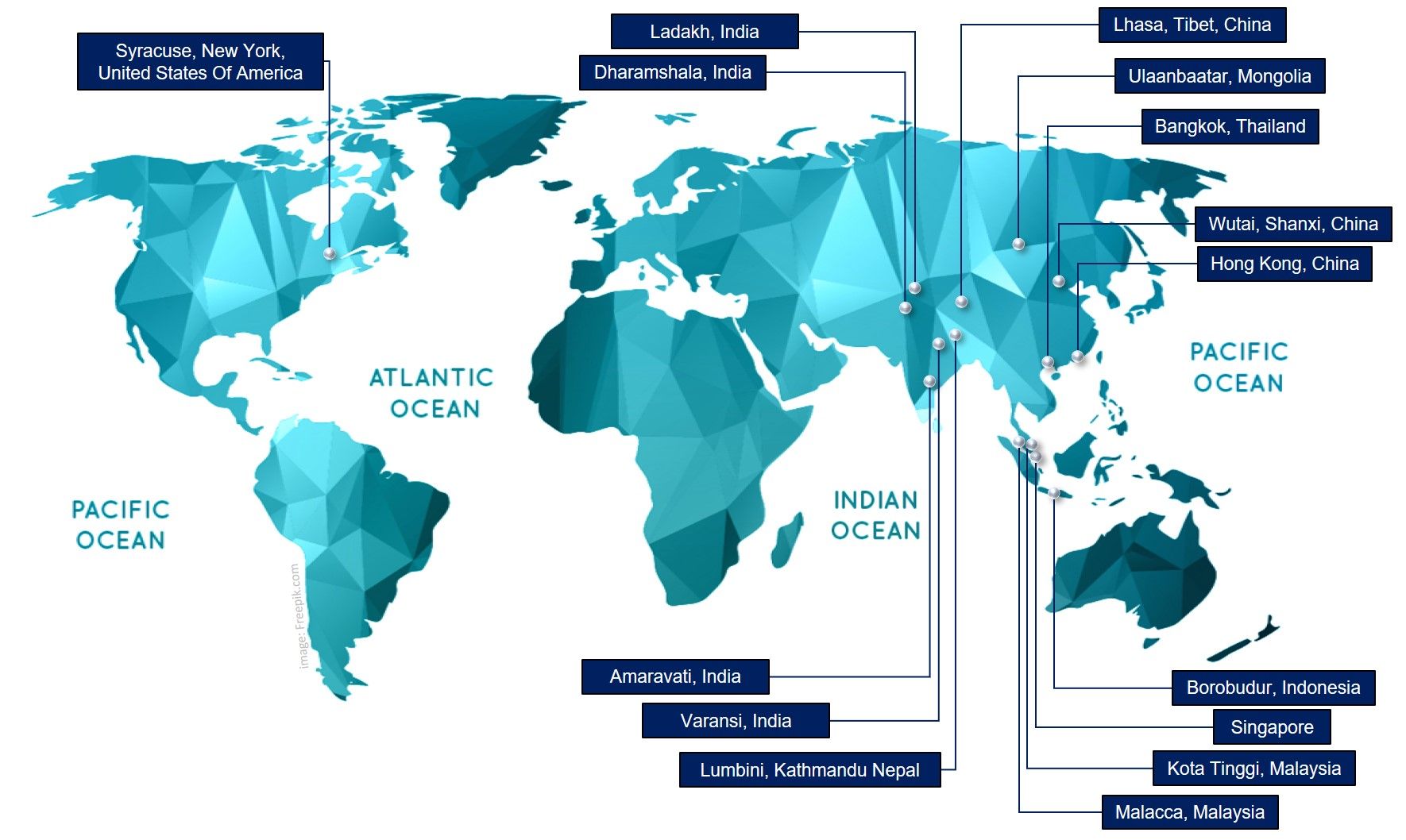 Students and disciples of Thekchen Choling are very fortunate to have the opportunities to connect meaningfully with many holy sites and different organizations around the world. Besides pilgrimages to the holy sites and Rinpoche's frequent visits to see his Gurus in Nepal and Mongolia, Singha Rinpoche is also often invited to teach overseas in United State Of America and our neighbour, Malaysia. These independent centres would often request for guidance and advice from Singha Rinpoche. Disciples from Thekchen Choling are also invited to visit and join them in their meaningful dharma activities.
In many ways, Thekchen Choling is not a physical centre in Singapore, but a international network of Buddhist (and sometimes Non-Buddhist) friends engaging in meaningful, beneficial activities that connect everyone, and benefitting all sentient beings.

NEPAL
Nepal is rich in culture and traditions. This is a prominent feature of Nepalese people.
Nepal offers its visitors an experience that is uniquely theirs. From the most remote corners of the country to the urban landscape of Kathmandu, Nepal embodies a sensory experience of colours, sounds, sights and tastes. For the students and disciples of Thekchen Choling (Singapore), Nepal also means Kopan Monastery, a centre for spiritual excellence, and a place Singha Rinpoche and the disciples of Thekchen Choling have a close affinity with.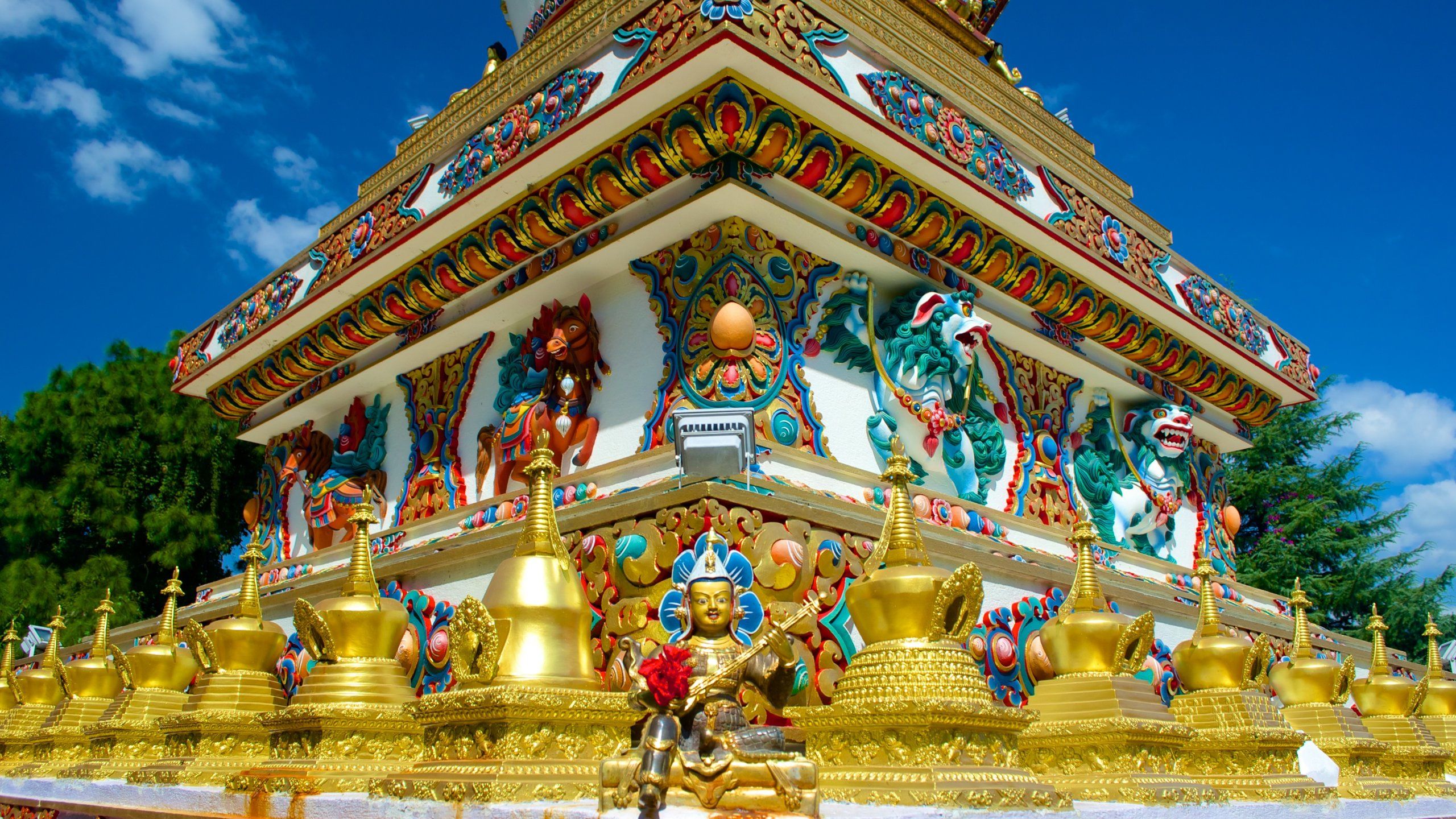 Kopan Monastery

Mandala Of Vajrayana Buddhism

Perched on a hill not far north of Boudhanath stupa, Kopan is one of the most popular monasteries to visit and learn about Vajrayana Buddhism. Each year, a large number of visitors visit to study the dharma.
Beauty Of Kopan

Center of Outer & Inner Beauty

Popular among foreigners, Kopan Monastry is famous for its November Lamrim Course which spans over a month and covers a wide range of topics in the Buddhist teachings.
To find out more, please visit their website with this link.

Our Deep Connections With Nepal

INDIA
One of the oldest civilisations in the world, India is a mosaic of multicultural experiences

A land resplendent with the riches and glories of opulent dynasties, powerful rulers, flourishing civilizations and profound history, India has a splendid heritage that is reflected in its architecture, monuments, arts, crafts, cultures and religions. While ancient temples and grand palaces are testament to the grandeur of yesteryears, the various museums and galleries scattered across the country act as inventories of India's seamless past, and the significant deeds of the Lord Shakyamuni Buddha.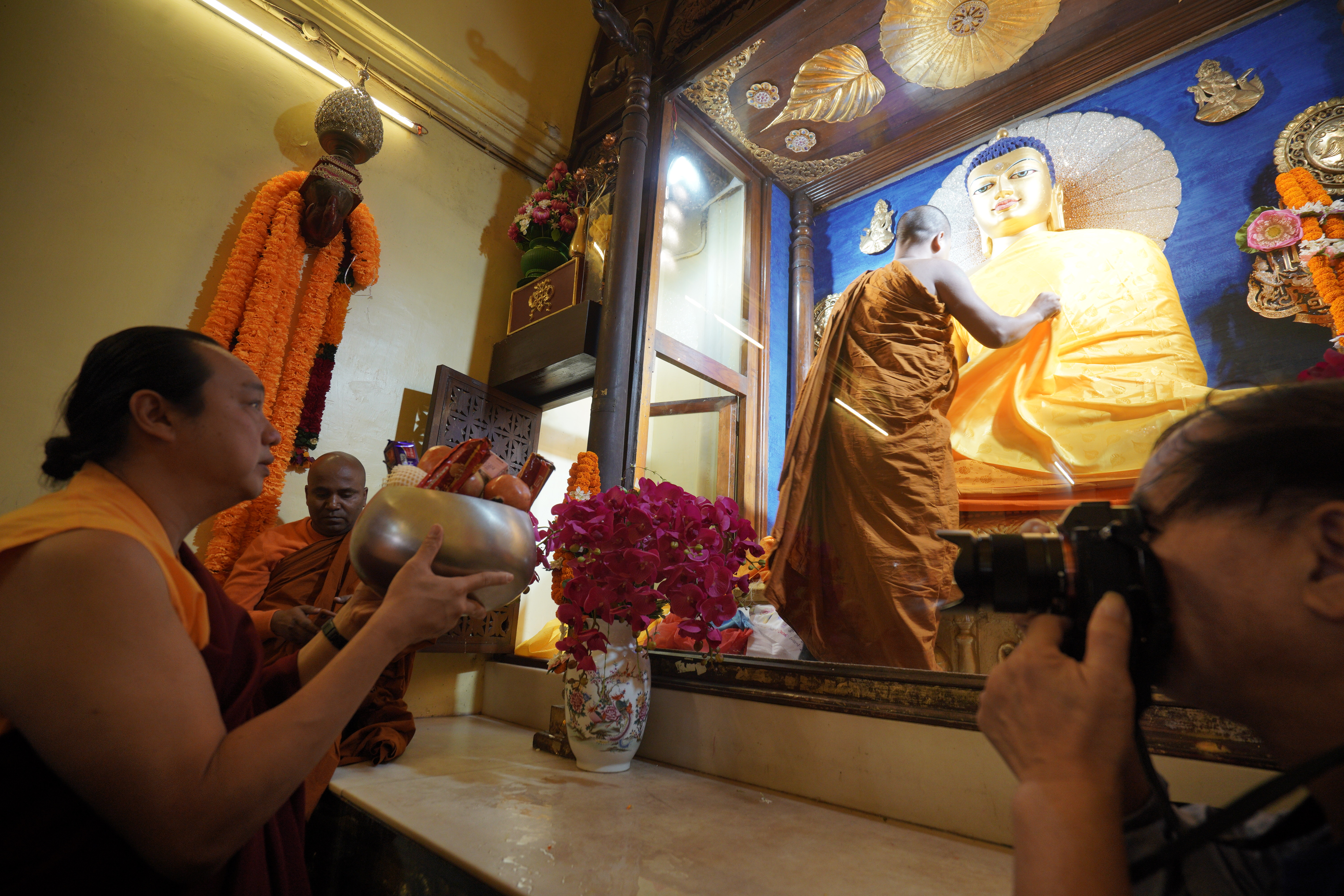 The Four Holy Sites

A Must Visit for All Buddhists

India offers three out of four of the mains sites Buddhist pilgrims should visit - the site where he attained Enlightenment at Bodh Gaya, where he first preached at Benaras, and where he manifested Parinirvana at Kusinagara.
Maha Bodhi Temple

Site Where Lord Shakyamuni Attained Enlightenment For All Beings

During a pilgrimage, Singha Rinpoche led disciples on a circumambulation of the Maha Bodhi Temple. A short teaching was also given at the holy sites that are important to the history of Buddhism.

Our Trip around Incredible India

CHINA
Sacred Mountain Abodes of Great Bodhisattvas

In the Chinese culture pilgrimage is associated with mountains because they are locations where the sacred manifests. In Chinese, a pilgrim (xiangeke 香客) is one who "offers incense," and going on pilgrimage translates to chaoshan jinxiang (朝山进香) literally meaning "offering incense to a mountain." Buddhism's rooting in China therefore includes the mapping of Bodhisattva abodes (physical pure lands) at numerous mountains. The four great and famous Buddhist mountains (sida fojiao mingshan 四大佛教名山), which are all associated with a Bodhisattva, play a significant part in Buddhist cosmology within Chinese geography.
Disciples of Thekchen Choling have had the rare opportunity to visit the sacred mountains with Singha Rinpoche onmultiple occasions.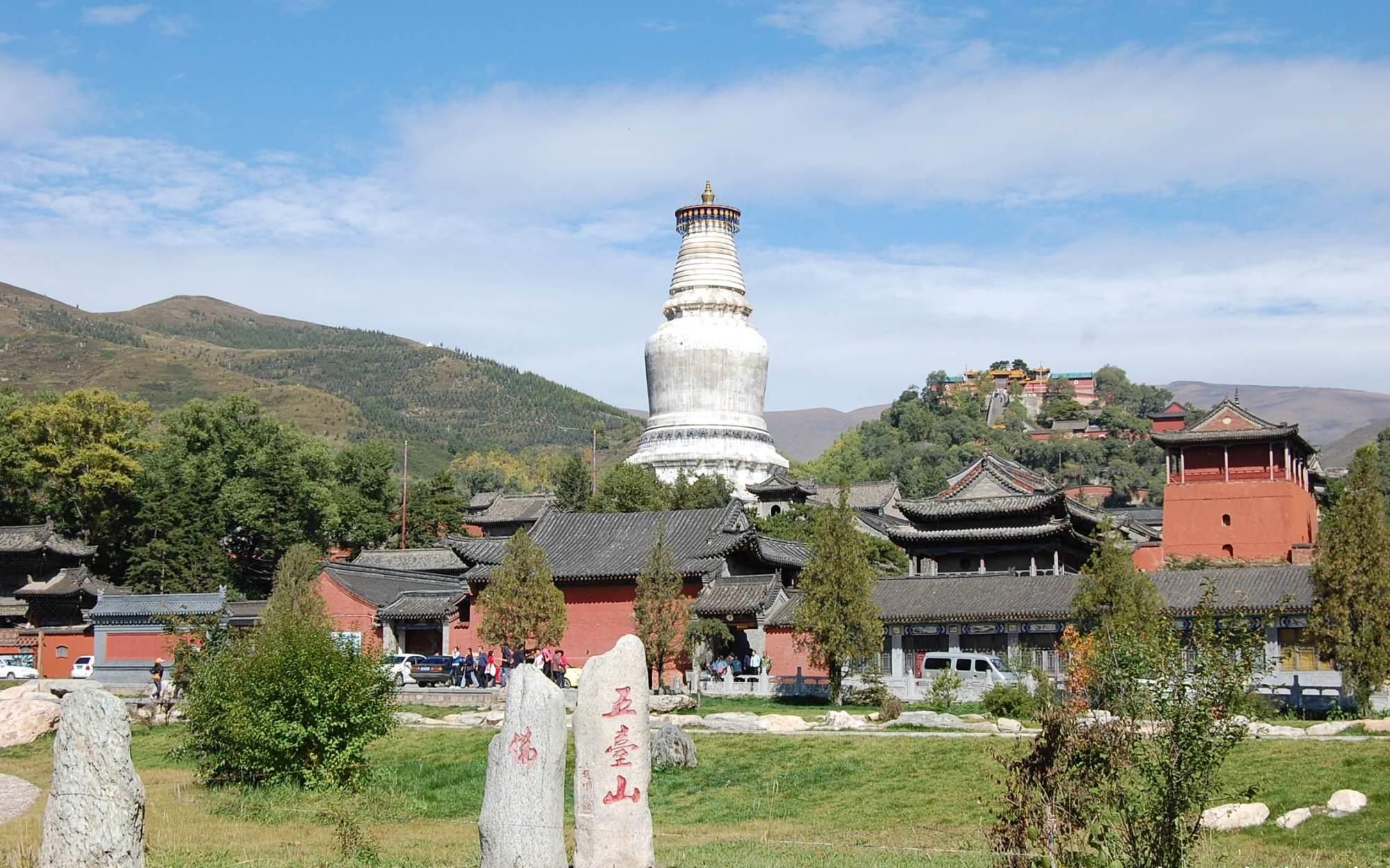 Mount Wutaishan
Scenic Abode of Manjushri Bodhisattva

Wutai Mountain is located in Zhangzhou City, Shanxi Province, a scenic tourism spot, and a reputed holy mountain since ancient times. Rinpoche shared with the disciples about the many relics found within. It is a place that many Vajrayana Buddhists yearn to visit at least once in their life.

Mount Emei
Mandala of Bodhisattva Samantabhadra
At 3,077 meters above sea level, the Jinding Peak, or Golden Summit, offers the best sights of the mountain, including the ancient Huazang Temple, a sea of white clouds, the magnificent sunrise, and the marvelous solar halo phenomenon, also known as Buddha's Halo.

MONGOLIA
Visiting Our Guru's Guru With Our Guru

Mongolia is a unique and relatively unexplored travel destination that offers a great combination of scenic natural features, untouched landscapes, a chance to see a nomadic life style and culture up close. For students of Thekchen Choling, Mongolia is also the second home of Singha Rinpoche's precious Guru, His Eminence the 6th Kyabje Jhado Rinpoche. On a few occasions in 2015 and 2019, Kyabje Jhado Rinpoche invited Singha Rinpoche to visit him in Mongolia. The accompanying disciples were treated to the warm hospitality of Kyabje Jhado Rinpoche's devotees in Mongolia. The extend Dharma families created a strong and unforgettable bond during the trips.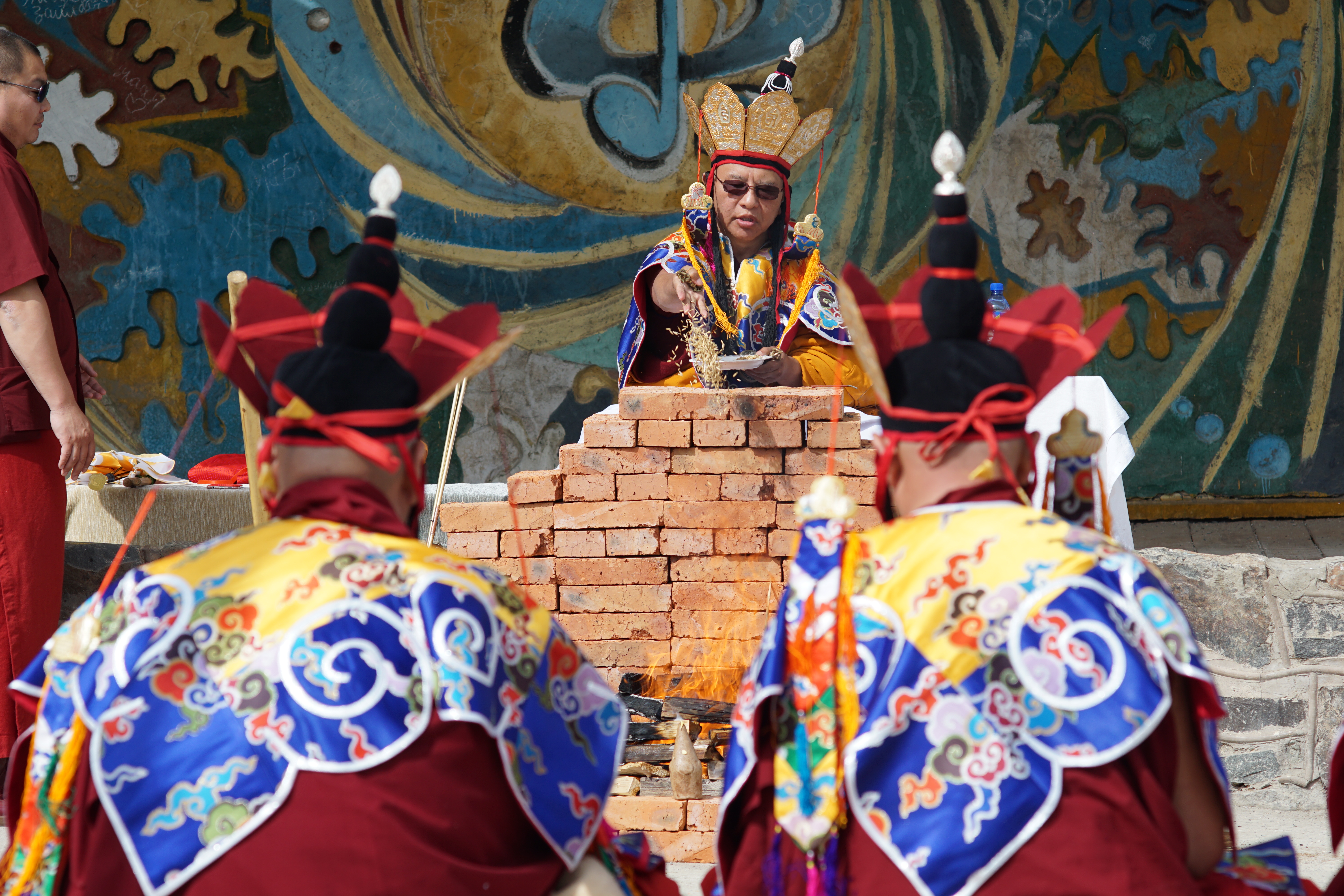 Auspicious Timing

A High Rinpoche Respected by the Mongolian Buddhist Community

Disciples of Thekchen Choling were fortunate to chance upon and participate in an empowerment Kyabje Jhado Rinpoche was bestowing at that time of the visit and a grand fire puja to clear negative karma since beginning-less lives.

Learning by Example

'Hanging Out' with the Gurus

The trip was a special session for Singha Rinpoche and his Guru. More importantly, students of Thekchen Choling experienced the genuine Guru-Disciple relationship Singha Rinpoche had with his Guru, bringing to life a very important chapter of our Buddhist journey.

Our Adventure in Mongolia

MALAYSIA
Independent Dharma Center of Beneficial Activities


For many years, Malaysian students of Singha Rinpoche have persistently requested him to give teachings in Malaysia so that people in Malaysia can benefit from the dharma. To create the auspicious condition for such teachings to happen, numerous location were scouted. Singha Rinpoche played a significant role in guiding and advising the Malaysian student in setting up their centre. On 15 October 2012, Thekchen Choling Malaysia was officially approved by the Malaysian Federal Government as a society to operate as a Buddhist temple.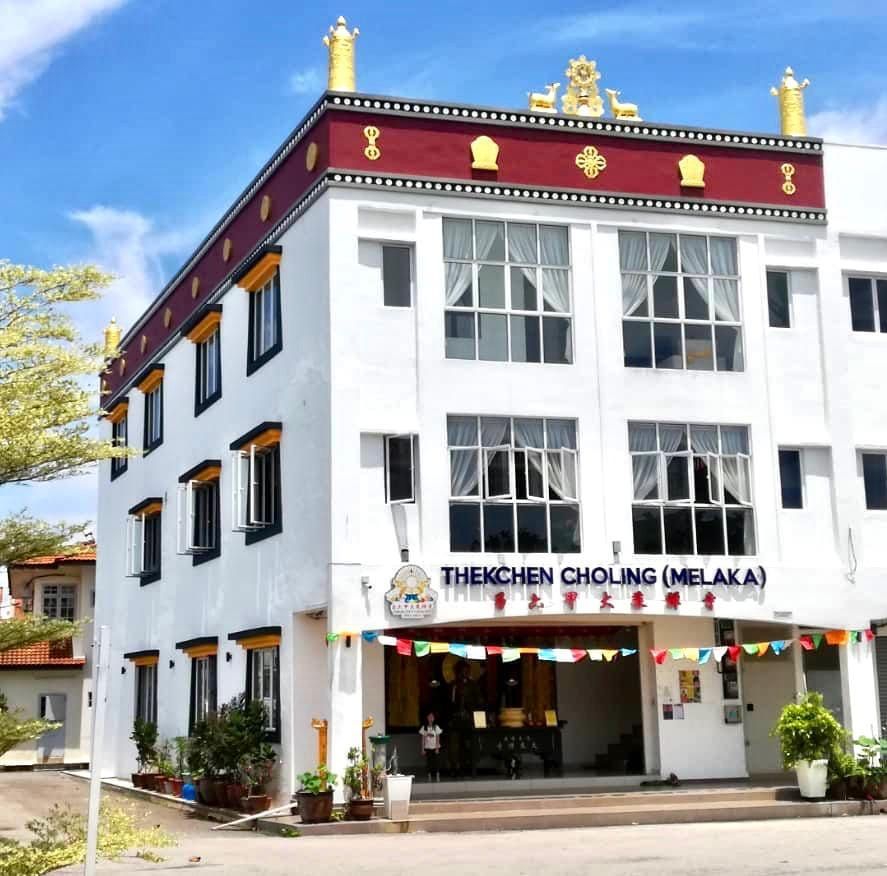 Humble Beginnings

Independent Center

Thekchen Choling (Malaysia) Melaka Centre started operating on a rented premise at 8/8A, Jalan Laksamana Cheng Ho. It started operations on 10 November 2012.

Thekchen Choling (Melaka) moved to a new premise in November 2017.
Current address: 40 Jalan Pandan Indah 1, Taman Pandan Indah, Malacca City, Malaysia
Tel: +60 11-1070 0920

Actualizing Buddhadharma

Bringing Benefits to the Community

The temple in Malacca serves as a place to allow the local people to learn about the Buddhadharma and practise it in their daily lives. The centre hosts regular Buddhadharma discussions and other activities such as chanting sessions, meditation classes and events like the Ullambana Festival.
Our Dharma Family in Malacca

MALAYSIA
Established Meditation & Retreat Center In Kota Tinggi

Specially commissioned by Singha Rinpoche, a magnificent statue of Thousand-Armed Chenrezig is housed in Thekchen Choling Kota Tinggi Meditation Center. Standing at 36 feet, it is the largest in Southeast Asia and is beautifully adorned with pearls, corals, turquoise and dzi-beads, the statue is the largest representation of Avalokitesvara in Tibetan style outside of Tibet and China that has been accurately represented. It is filled with tsung under the personal guidance of His Eminence the 6th Kyabje Jhado Rinpoche in the Vajrayana Buddhist tradition. Within the statue are dharma texts, precious relics and holy objects granted by His Holiness 14th Dalai Lama, His Holiness Sakya Trizin, His Holiness the 17th Gyalwang Karmapa Ogyen Trinley Dorje, H.E the 102nd Ganden Tri Rinpoche, His Eminence the 5th Dagri Rinpoche, Kyabje Jhado Rinpoche, His Eminence Tsikey Chokling Rinpoche, His Eminence Kyabje Lama Zopa Rinpoche and many other precious lineage gurus.

Auspicious Beginning

A Meditation Paradise

In late 2013, a two-acre piece of land in Kota Tinggi was consecrated by Singha Rinpoche. This plot of land would eventually become Thekchen Choling Kota Tinggi Meditation Centre.

Mandala of 1000-Armed Chenrezig

Prominent Center in the Region

The construction of the mandala began in 2014 and the building is now complete. The Grand Opening Ceremony of Thekchen Choling Kota Tinggi Meditation Centre was held on 19 June 2016 and graced by Guest of Honour, YB Datuk Tee Siew Kiong and our precious guru, Singha Rinpoche.
Our Oasis of Peace in Kota Tinggi

SYRACUSE
"Great Mahayana Dharma Temple."
In The United States Of America

Even though it is not New York City, upstate Syracuse still holds tons of appeal for those wanting to get away from the actual urban hubbub. Besides enjoying a little of the super-charming side of another part of the state, visitors can now explore the beauty of Buddha's teaching in the Thekchen Choling Syracuse centre. Rare Buddha relics are often on display. With the soothing chants of Buddhist mantra playing in the background and the calming energy of the centre, Thekchen Choling Syracuse is an oasis in the bustling city of New York, ideal for meditation and study.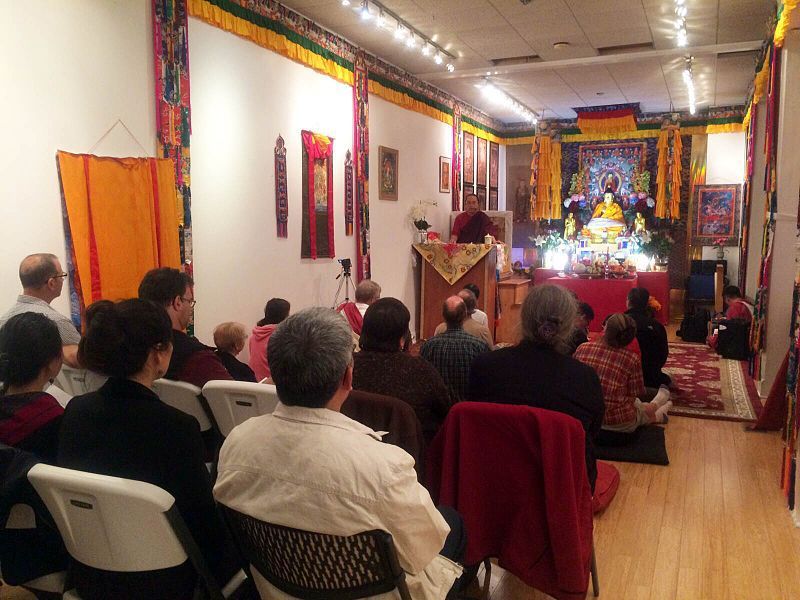 Bring Teachings to The United States Of America

Great Mahayana Dharma Temple
Thekchen Choling Syracuse is a place where people from the community can study and practise the Buddhadharma, the universal truth, and integrate the teachings of the Buddha into their daily lives as they learn to realize their inner potential to be happy and fulfilled.
Center of Year Long Activities

Funded by Generosity

The independent temple offers meditation classes, a Buddhism study group, sutra recitation, ritual practices, and dharma teachings by visiting teachers. Singha Rinpoche is often invited to give teachings at the centre, with the occasional empowerment and pujas conducted to bring benefit to the community.

Our Experience in Syracuse