DEVOTE. CONNECT. CELEBRATE

Choosing a Guru and following him to enlightenment is precarious, exciting, rewarding, and at times, mind-blowing. A qualified Guru is like an expert navigator steering us toward enlightenment. Often, he or she will bring us out of our comfort zone to test and teach us the Dharma. During such mind trainings, we might feel that it is risky and crazy being in this zone, but such means are skillful means to shatter our pride and keep our egos in check. Hence, it is important to check before one establishes the connection and commitment to one's Guru.
For many disciples of Thekchen Choling, we are blessed to have our most precious guide, Singha Thekchen Namdrol Rinpoche, to be here to guide and teach us. He is known to many of us as a close confidant, a caring father, and a wise teacher. Rinpoche is truly an embodiment of wisdom and compassion. He has great love for all of us and has the wisdom to make good of the available conditions to develop the Bodhi Seed in our mindstream. Through him, we can better understand ourselves and are inspired to live our life with a purpose!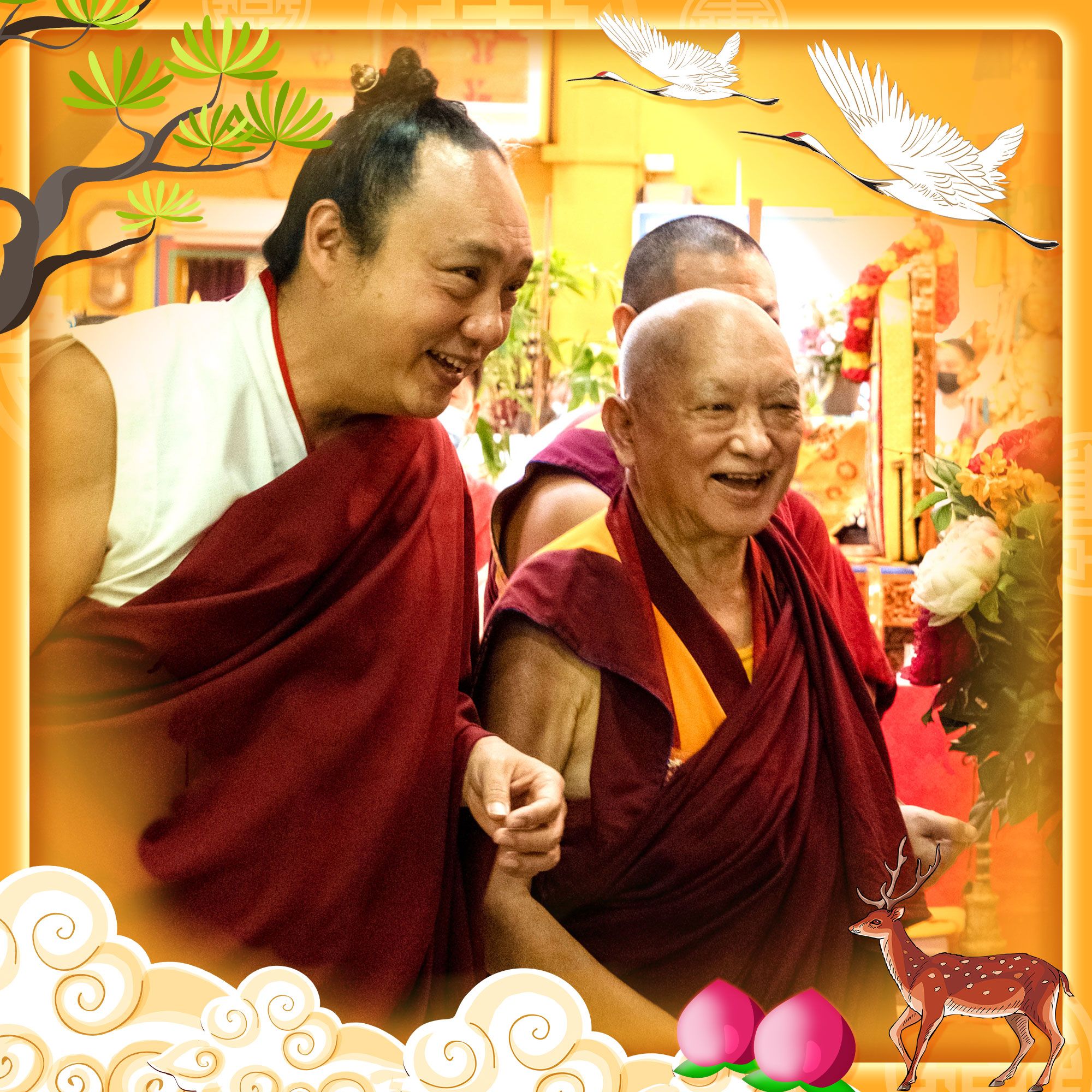 "Even if all qualities are completed,
Without a guru you cannot be liberated from samsara."


Explanation from Tantric Texts as shared by
Lama Zopa Rinpoche at the Great Stupa of Universal Compassion
Singha Rinpoche teaches that the most important goal of our practice is to apply and experience Dharma in our lives. He taught us that the intent of learning the Dharma is not to use it as an ego "plaster" to please or soothe us to feel good. Instead, we need to realise that learning the Dharma is to crush our self-cherishing mind, and it is a remedy to counter our ego-centric mind. Only when our ego-centric mind is tamed can we realise the unstained and vastness of the innate nature of our minds.
Many of us have experienced and internalised the Dharma through his wisdom teachings and skilful means. Moreover, we have witnessed the positive change made in our lives by applying what he has taught us.
Thus, we pray that he will continue to turn the Dharma wheel for all beings so that more people can benefit from his teaching. On the special celebration that marks the birth of our Guru, Singha Rinpoche, we will dedicate a long-life Guru Puja to him and all lineage Gurus. We want to invite you to this meritorious activity. Just as what Padmasambhava, Guru Rinpoche, explained why we need a Guru:
"If you don't recognise the Guru as a Buddha, your mind cannot be liberated by the blessings. Therefore, reflect on the qualities of the Guru and then make requests to him."
Let's all come together to request Singha Rinpoche and all lineage Gurus to stay long and turn the wheel of Dharma for all beings in this long-life Guru Puja.
May all our Guru's Dharma wishes be fulfilled and actualised immediately!
May all sentient beings be able to enjoy Dharma day and night and gain awakening through our Guru's enlightened activities!
May all countries live in peace and harmony, and all people enjoy stability, growth and prosperity!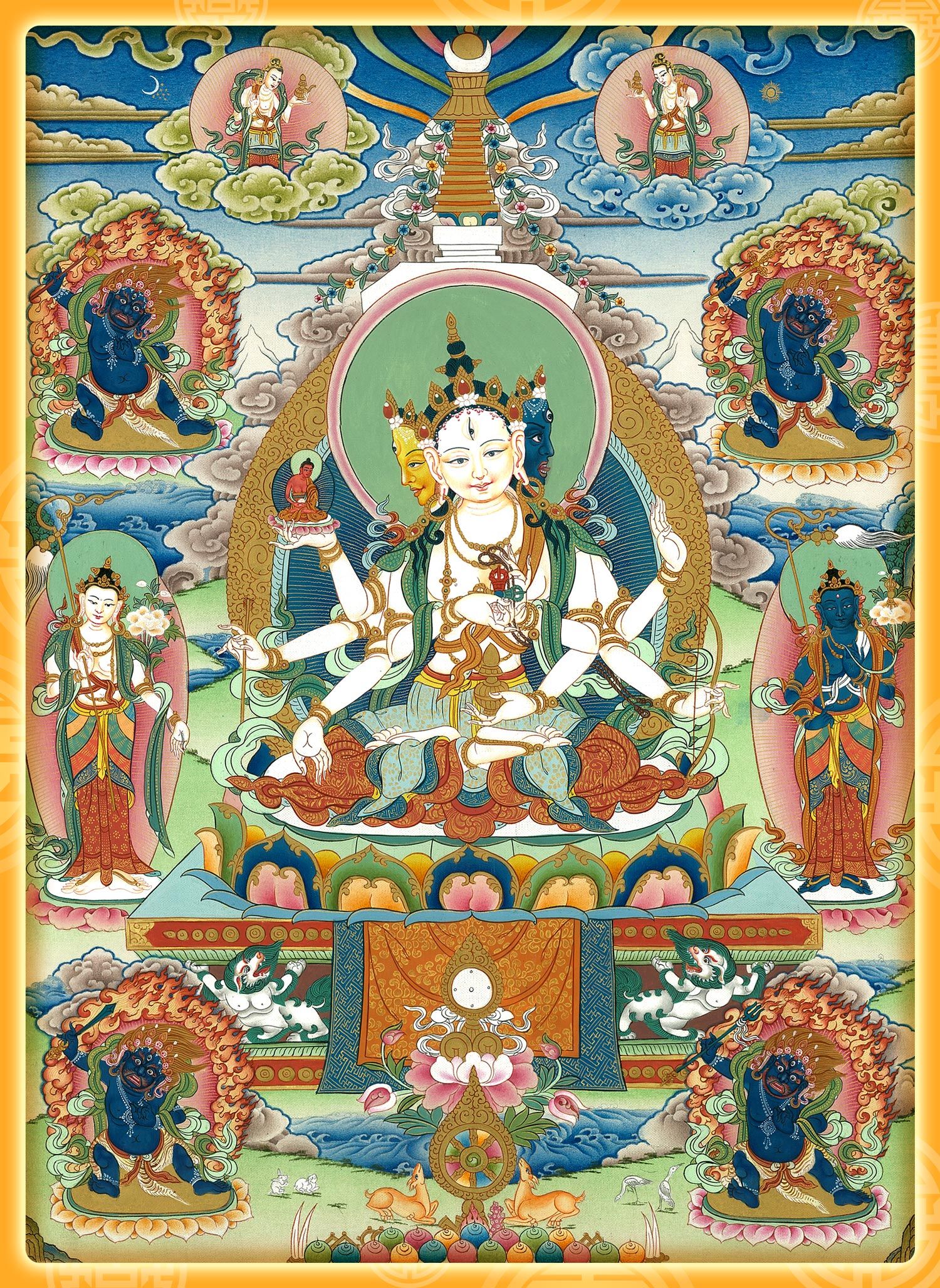 Gift of Devotion:
Namgyalma Mantra Practice
至诚献礼:尊胜佛母咒修持
Let us join our hearts and recite the short mantra of Namgyalma together from now till 22 Feb, Wednesday 2359hrs (SGT GMT +8).

H.E. Kyabje Jhado Rinpoche specially advised that it would be greatly beneficial if disciples and students of Singha Rinpoche could recite 100,000 of the Namgyalma short mantra each to dedicate to the long life and good health of Singha Rinpoche. All are welcome to contribute as many mantras as you can to pray for our Guru!

We will consolidate the total mantra count and present it as a Gift of Devotion to Singha Rinpoche on the Long-Life Guru Puja held on 23 Feb 2023. We will also dedicate these merits to the long life of H.H. Dalai Lama, H.E. Kyabje Jhado Rinpoche and all lineage Gurus.

May all the holy wishes of all kind lineage Gurus be manifested quickly. May all Dharma centres, especially Thekchen Choling Temples, have success and flourish the Dharma extensively for all disciples, students, sponsors, members, and all sentient beings!
Om Bhrum Soha Om Amidah Ayur Dadeh Soha

尊胜佛母心咒:

嗡 普隆 娑哈 嗡 阿弥达 阿优达底 娑哈

Start of Accumulation 持咒开始: 26/01/2023, 2130hrs (SGT, GMT +8)
Last Submission Date 持咒圆满: 22/02/2023, 2359hrs (SGT, GMT +8)
(Submission closed)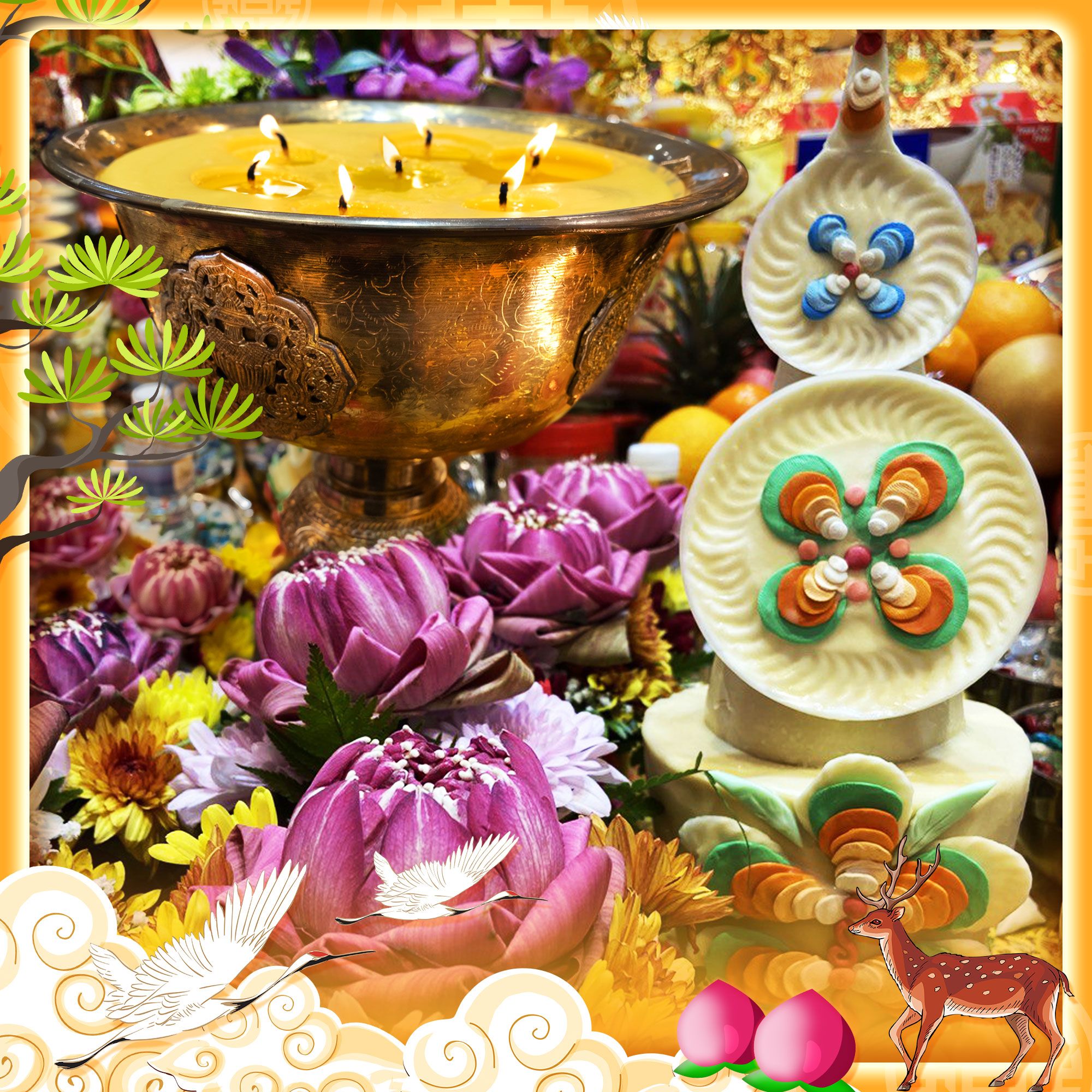 Namgyal Tong Cho Puja
尊胜佛母千供法会
According to Vajrayana Buddhist Tradition, Tong Cho or Thousand Offerings is a unique practice widely practised by many past Bodhisattvas to quickly attained Enlightenment.
The purpose of offering a thousand lamps, a thousand flowers, and a thousand incense is for us to accumulate vast amount of merits quickly and purify one's obstacles and negative imprints of our mind. Out of its myriad of benefits, it also helps to increase one's longevity, fortune, wisdom and all other good qualities.
23 Feb 2023
10am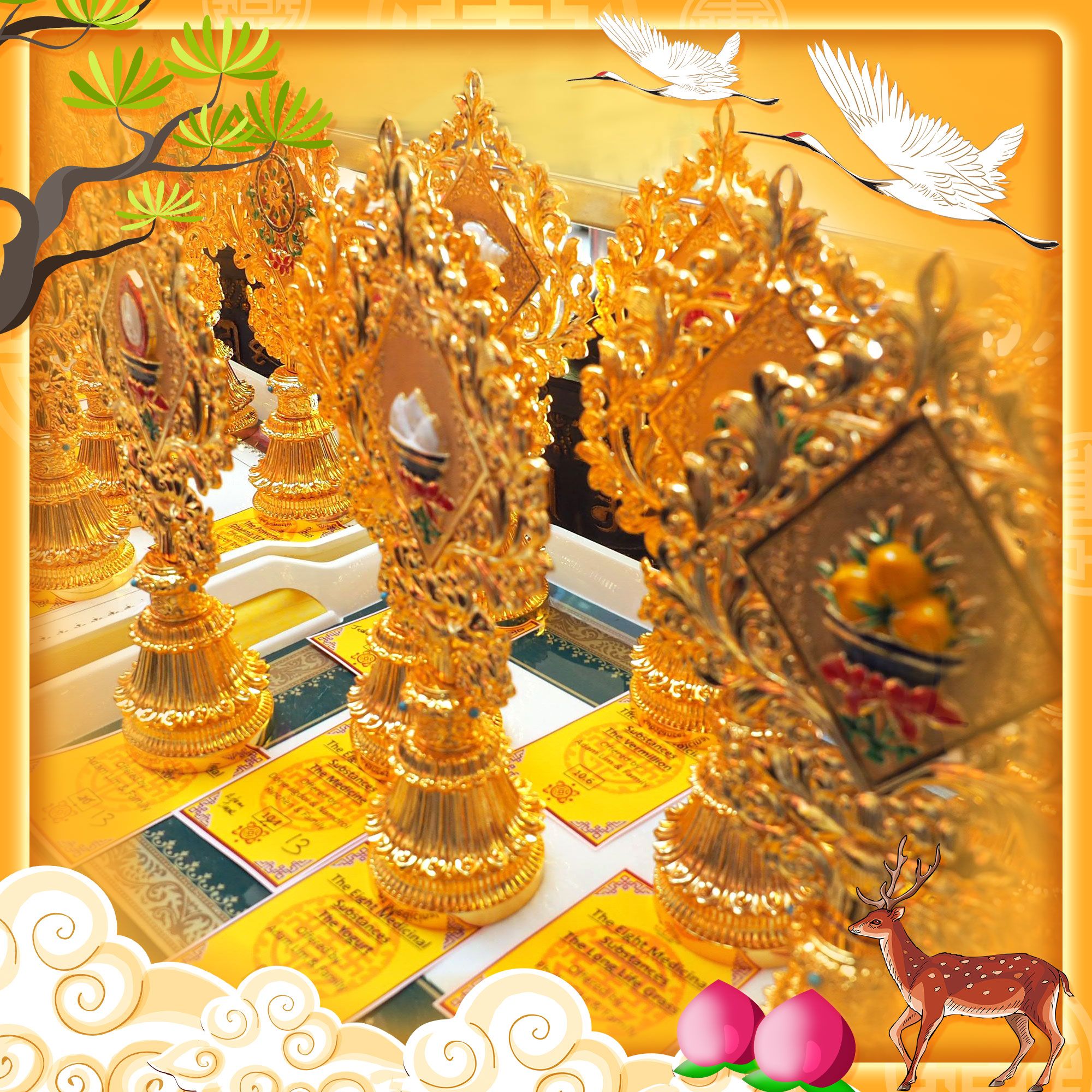 Long-Life Guru Puja for H.E. Jhado Rinpoche
【上师长寿荟供】献予尊贵的查多仁波切

Offered on Singha Rinpoche's Birthday
The long-life Guru Puja is an important ceremonial practice whereby a procession of elaborate symbolic offerings, heartfelt prayers and requests are made to our kind spiritual master, to supplicate for their continued good health and long life.
This offering practice purifies any mistakes that occur within the relationship between guru and disciple and creates the meritorious conditions for the guru to remain amongst us.

Both Jhado Rinpoche and Singha Rinpoche will be attending this puja.
23 Feb 2023
7pm
Facebook Live
Join us in our collective efforts and practice of Guru Devotion. Contribute towards the sponsorship of the following prayers and offerings on 23 Feb 2023 to pray for the good health and long life of our Guru, Singha Rinpoche:
1) Namgyalma Puja performed at Thekchen Choling Singapore.
2) Three Long Life Deities Puja performed by Shelka Choede Monastery, Nepal.
3) Namgyal Tong Cho Puja performed by Shree Gaden Dhargay-Ling Monastery, Nepal.
4) Auspicious offerings in the Long-Life Guru Puja performed by Thekchen Choling disciples worldwide.
5) Offering of white wash, shambu, 5,555 butter lamps, prayer flags, and painting the eyes of Boudhanath Stupa,Nepal.
6) Offering of 108 Vertical Long Life Prayer Flags at Namgyal Rinpoche's Village in Sailung, and 36 Vertical Long Life Prayer Flags in Tsum Valley, Nepal.
7) Offering of meals for all Sanghas of Kopan Monastery, Khachoe Ghakyil Ling Nunnery, Shelka Choede Monastery, and Namgyal Jyangchub Choeling Monastery, Nepal.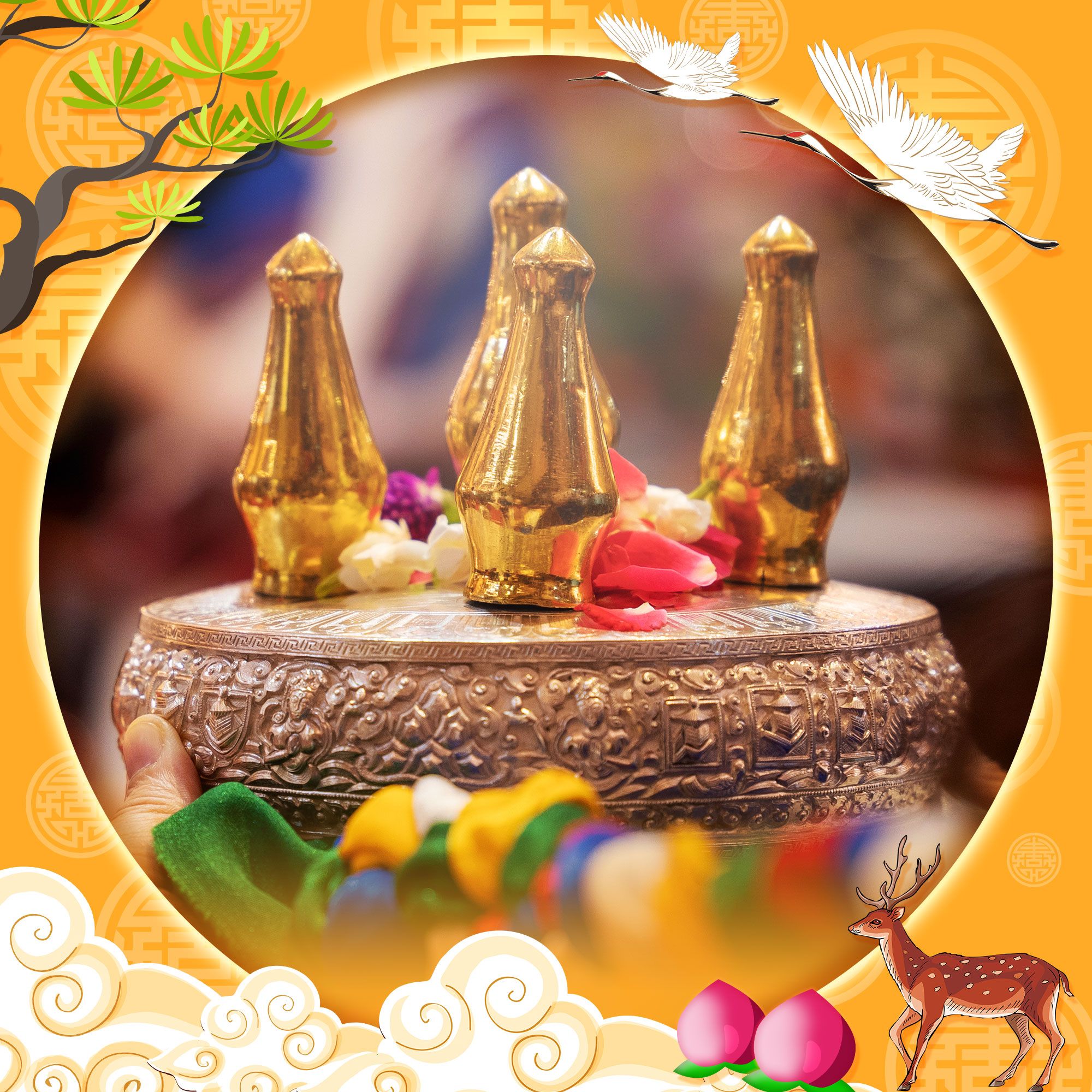 Dharmachakra Mandala Offering 法轮曼达供养
Closing date: 22/2/2023 (Wed), 11.59pm
Dharmachakra means turning the wheel of Dharma. Offering the Dharmachakra Mandala to one's Guru signifies the disciple's devotion and long life request for the Guru's extended life span, and to turn the wheel of dharma for the benefit of all beings.
The offering of Mandala also signifies the offering of the universe and the disciple's body, speech and mind to the Guru as our precious human rebirth is liken to a wish-fulfilling jewel. Through the Guru's wisdom and skillful means, our Buddha Nature is awakened and ripens quickly. As such, this human rebirth becomes the cause for our enlightenment.
Disciples making this offering are invited to attend the Long Life Guru Puja Ceremony and offer the Mandala on 23 February 2023 during this puja. Both Jhado Rinpoche and Singha Rinpoche will be attending this puja.

Note: Limited sets only.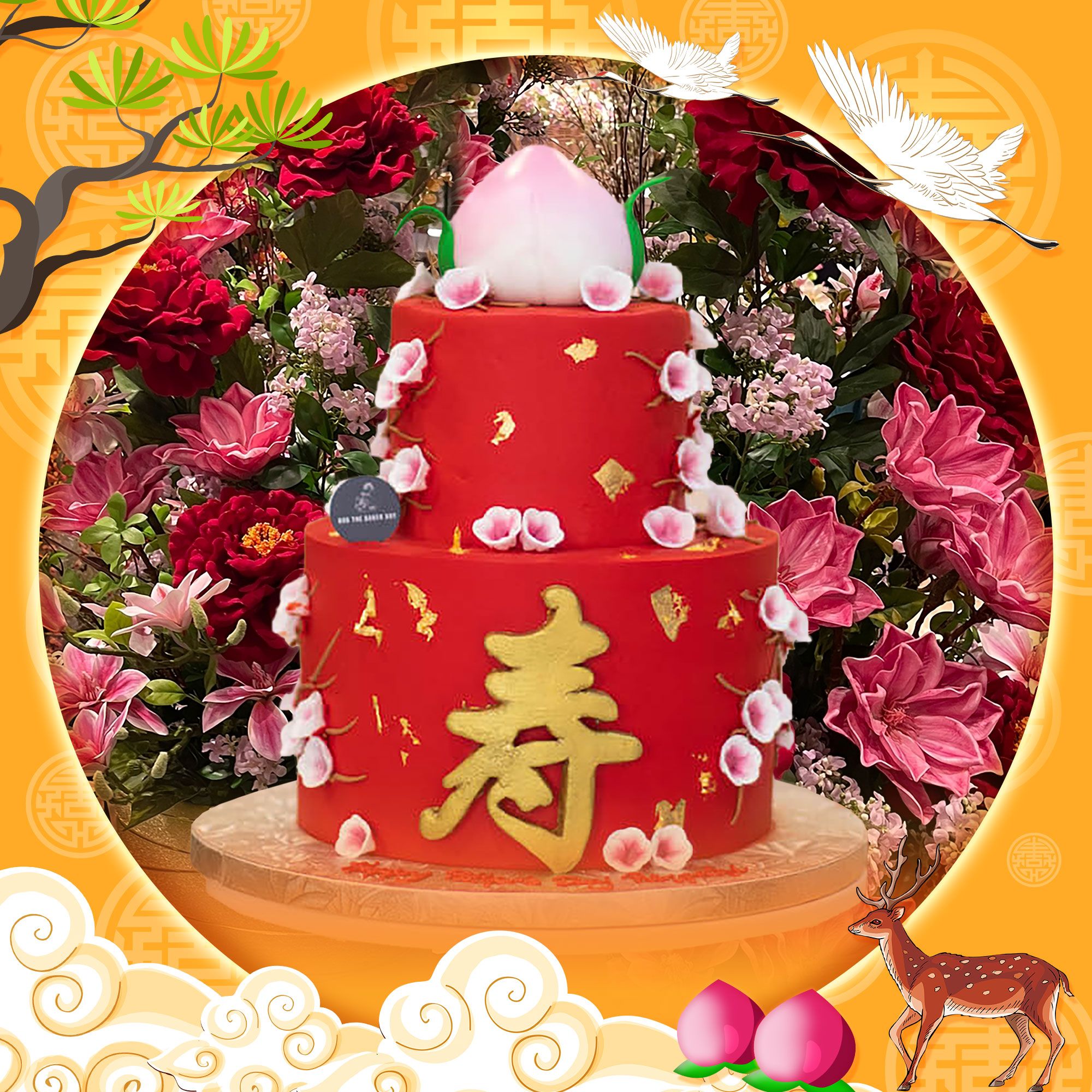 Long-Life Tsog Offering
长寿荟供法食
Closing date: 22/2/2023 (Wed), 11.59pm
Contribute to our collective efforts and practice to offer tsog which includes a birthday cake and food offerings for the Long Life Guru Puja on 23 February 2023.
The tsog collected will be donated to charity after the puja. The food offerings will be offered to H.E. Jhado Rinpoche, Singha Rinpoche, the Sangha, volunteers and guests in attendance.
Benefits of this practice: Purification of all negativities and obscurations. Awakening and ripening of good conditions that deliver us into the Dharmakaya state.
We welcome you to contribute any amount.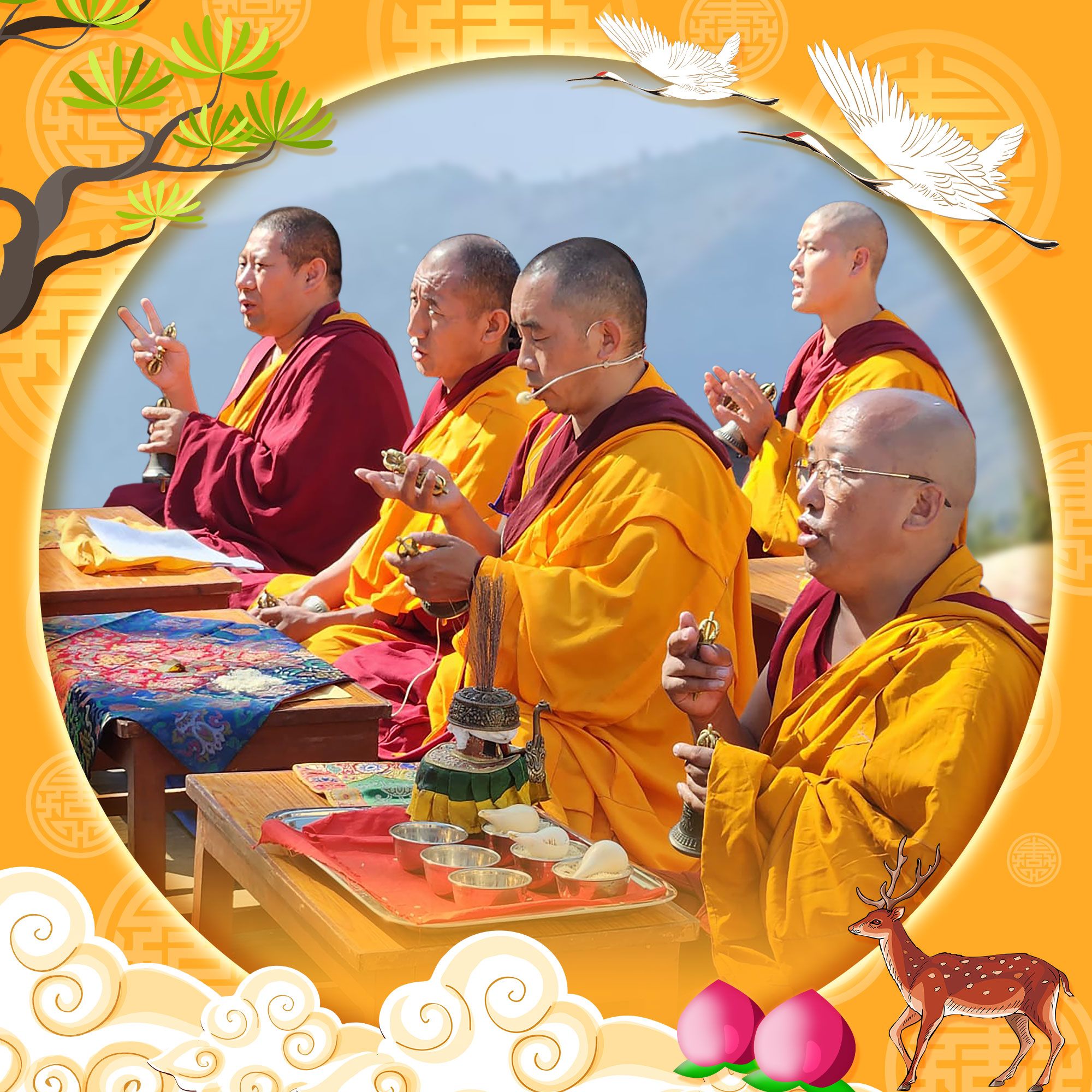 Auspicious Prayers and Offerings 吉祥法会与供养
Closing date: 22/2/2023 (Wed), 11.59pm
Sponsor the various prayers and offerings mentioned above as we pray for the good health and long life of our Guru, Singha Rinpoche. Join us in our collective efforts and practice of Guru Devotion!

Benefits of this practice: To accumulate merits and create the causes and conditions for our most precious Guru to remain with us in the world for a long time in order to turn the Dharma wheel, bringing countless benefits to all beings.
We welcome you to contribute any amount.
Everything is impermanent in life.
However, it does not mean we cannot
choose to live and celebrate life.
Like a child in his world of make believe, we should see reality's true nature AND enjoy it.
Our kind, compassionate (fun) Guru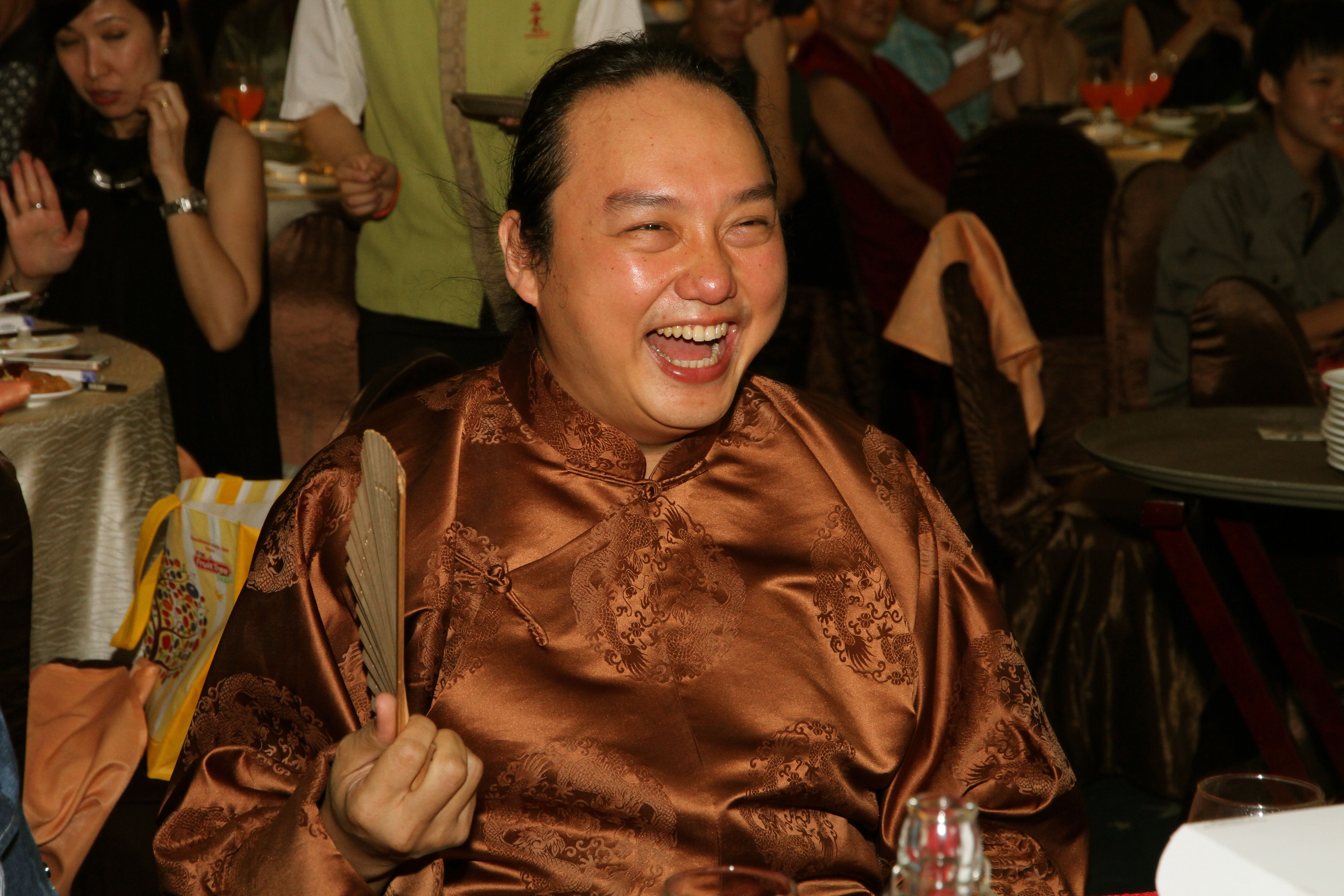 I think of my Guru often and I miss my Guru dearly. There is no kindness greater than the love of my Guru.

Our very precious Refuge, Singha Rinpoche,
when remembering his Guru.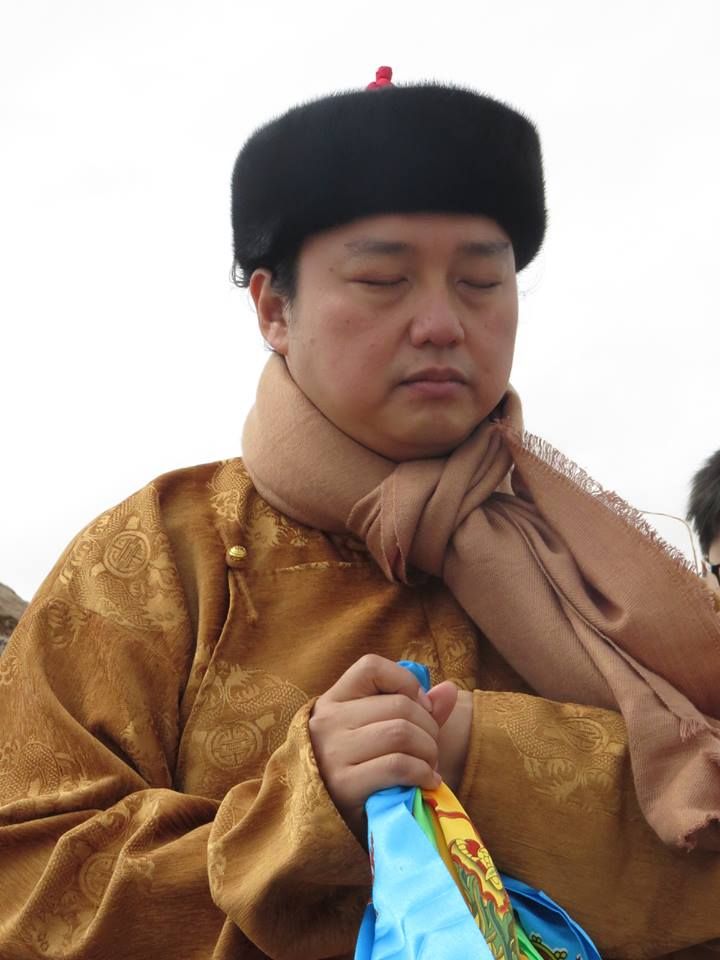 If you truly love me, you should come for teachings. More importantly, you should practice the Dharma, internalize the Dharma and become inseparable from the Dharma.

Singha Rinpoche
Caring Father, Skillful Teacher, Wise Guide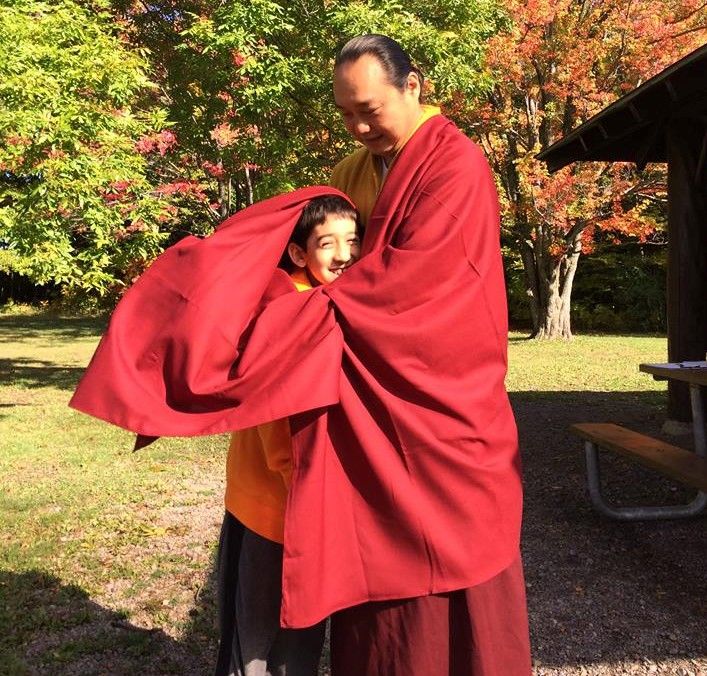 Heart Advice from Singha Rinpoche
During 2022 Pilgrimage to Nepal