The Jowo Sambhogakaya Buddha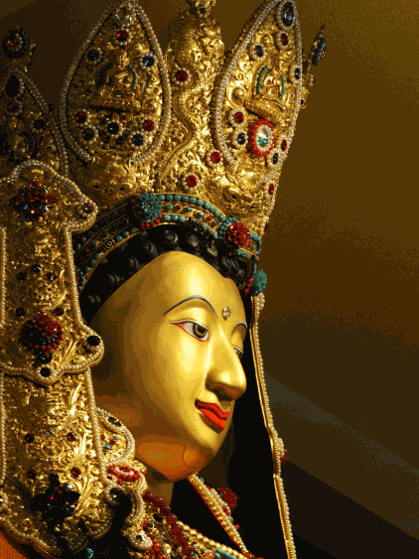 Tap on Photo for Rupa Details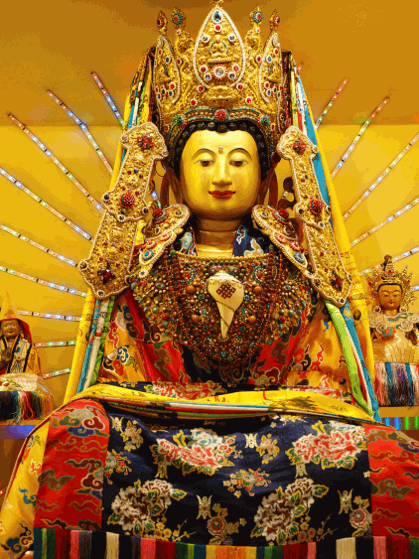 Tap on Photo for Rupa Details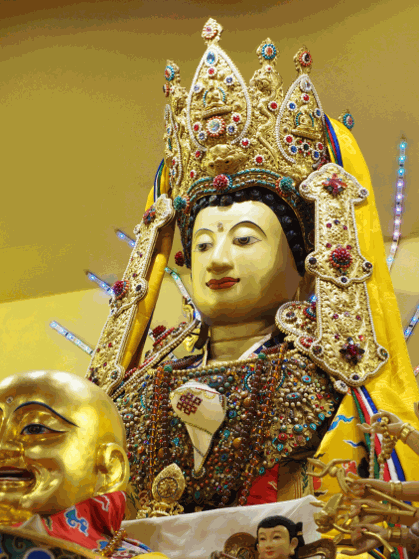 Tap on Photo for Rupa Details
The Jowo Sambhogakaya Buddha, an unusual representation of Shakyamuni Buddha, is instantly recognizable as the centrepiece at Thekchen Choling's main hall. Styled after the Jowo Buddha at the Jokhang Temple in Tibet, it employs decorative motifs from the Vajrayana, Mahayana and Theravada traditions – a nod to the temple's non-sectarian philosophy. Many believe that its arrival to Thekchen Choling in 2003 has helped protect disciples from the SARS epidemic. Today, it continues to attract devotees from all over the world.
The First Giant Mani Wheel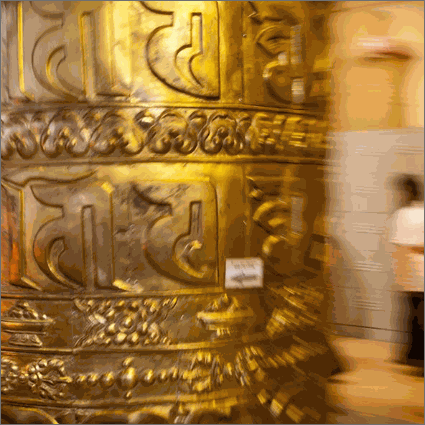 The Giant Mani Wheel was first installed in 2003 at Thekchen Choling's Bukit Timah premise. Standing at 3 metres high and measuring 1.38 metres in diameter, it contains more than two hundred million printed mantras such as Chenrezig's "Om Mani Padme Hum." According to Tibetan Buddhist tradition, anyone who turns a mani wheel in a clockwise direction is blessed. The merit and purification of turning the mani wheel is as much as having recited all the contained mantras themselves.
The Mani Wheel was re-consecrated in November 2007 at the temple's current location. Newly printed mantras and precious items such as brocades and gems were placed inside the Mani Wheel. Its presence serves as a blessing for the area and creates boundless merits for those who turn it faithfully.
Did you know: There are a total of 218,844,788 mantras in the Giant Mani Wheel.

The Largest Shakyamuni Buddha
Appliqué Thangka in Southeast Asia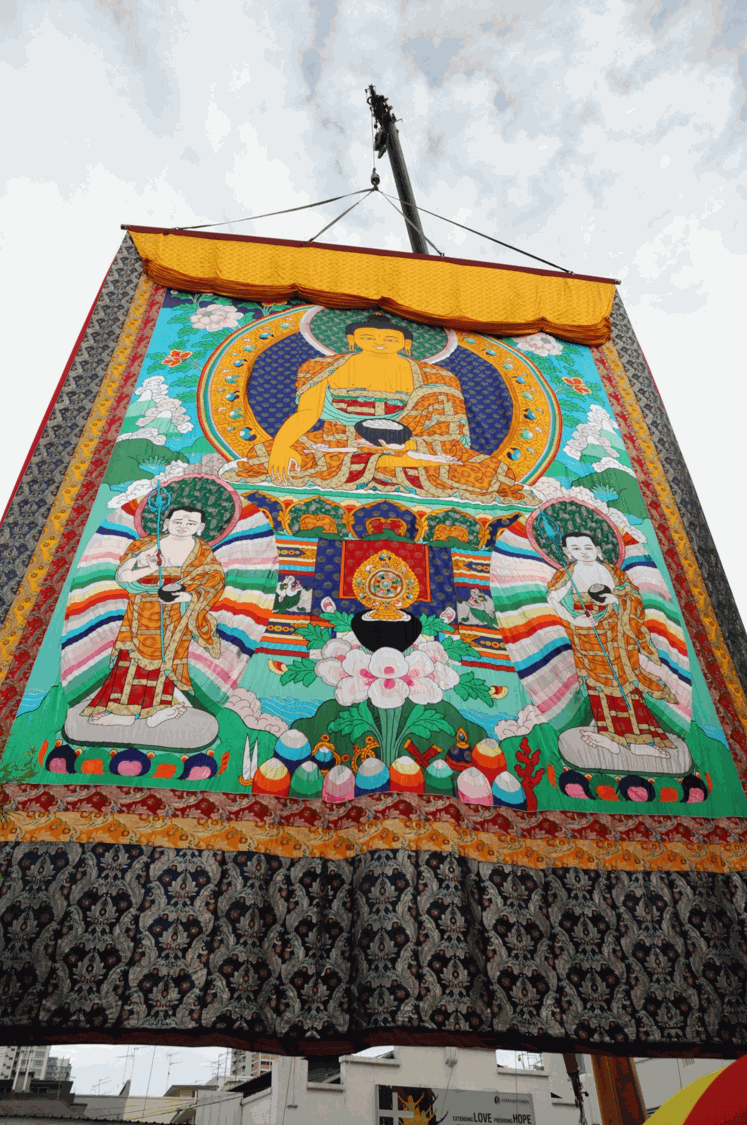 Tap on Photo for Thangka Details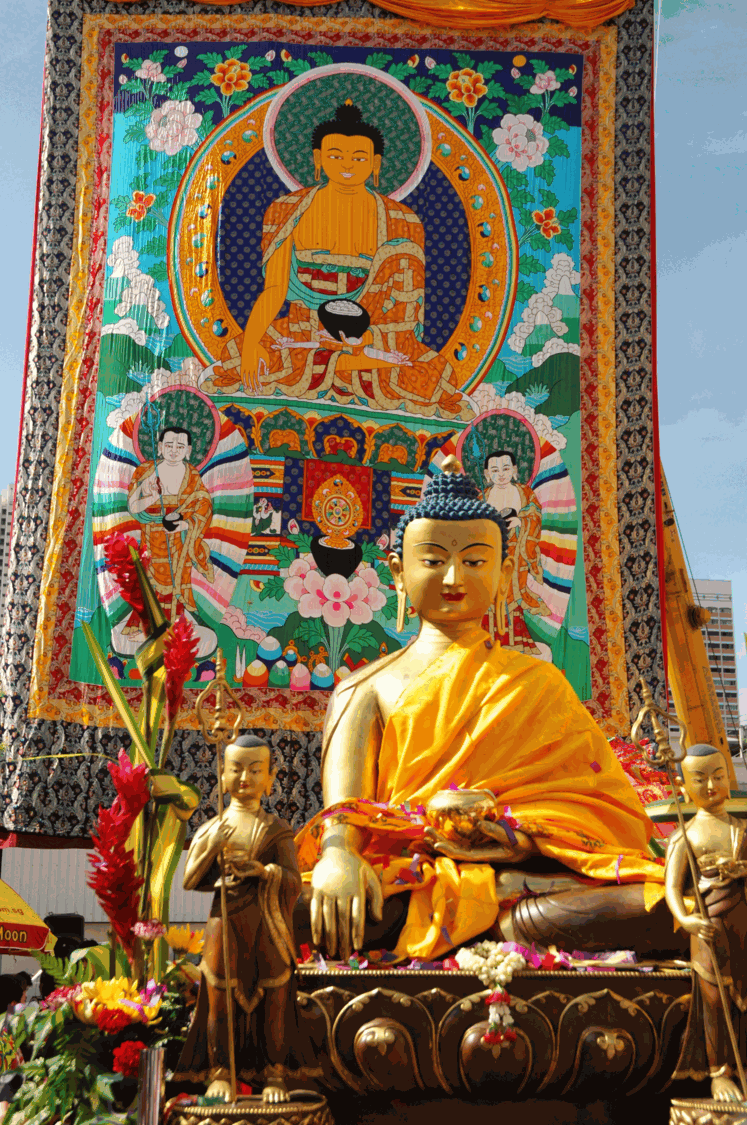 Tap on Photo for Thangka Details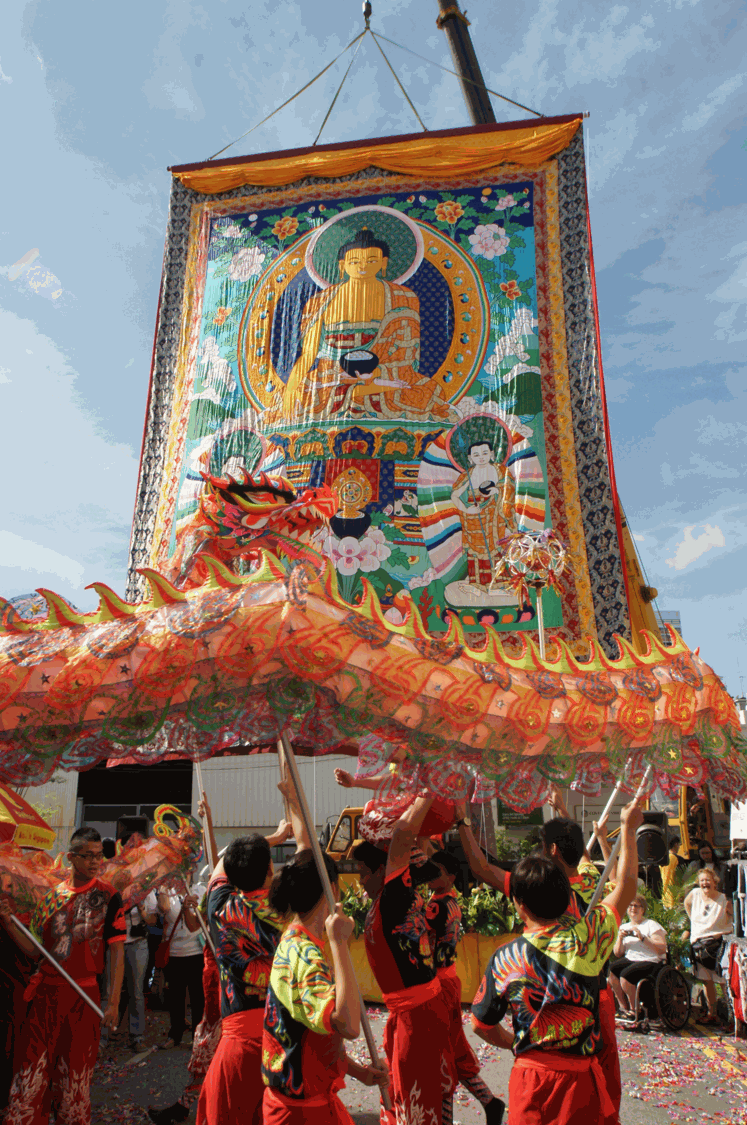 Tap on Photo for Thangka Details
Thekchen Choling is home to a beautiful appliqué thangka depicting Shakyamuni Buddha serenely seated in the full lotus position on a throne, attended to by his two chief disciples Shariputra and Maudgalyayana. It is entirely hand-sewn from silk brocade, beads and sequins. When fully unveiled, the thangka is four storeys tall, making it the largest Shakyamuni Buddha thangka in Southeast Asia.
This Wish-fulfilling Shakyamuni Buddha thangka is only unveiled on the special occasion of Vesak Day. The annual event has been featured in the local media and attracts devotees from around the region. It is believed that simply gazing upon the image of Shakyamuni Buddha brings countless blessings and auspicious conditions for those who sincerely pay homage.

Singapore's Only Mig-Chenrezig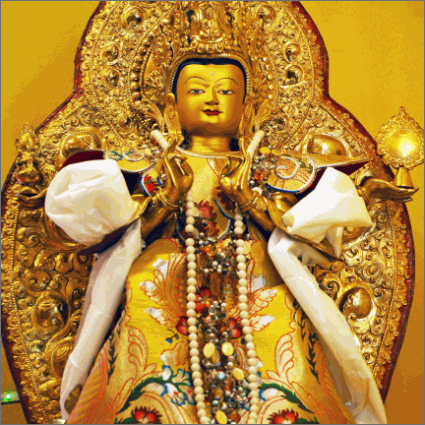 Mig Chenrezig is a form of Chenrezig found only in Tibetan Buddhism, and is a rarity even within the Tibetan Buddhist tradition. Little about Mig Chenrezig is documented in texts as information related to him and his practice is passed down only in the oral tradition.

Thekchen Choling's Mig Chenrezig is the only one in Singapore. It was specially commissioned in line with the temple's aim to be a sanctuary of healing, as Mig Chenrezig's main activity is healing, especially eye ailments. The practice of Mig Chenrezig focuses on both the Great Compassion and the Great Wisdom of all the Buddhas.
The Largest Appliqué Guru Rinpoche Thangka in Southeast Asia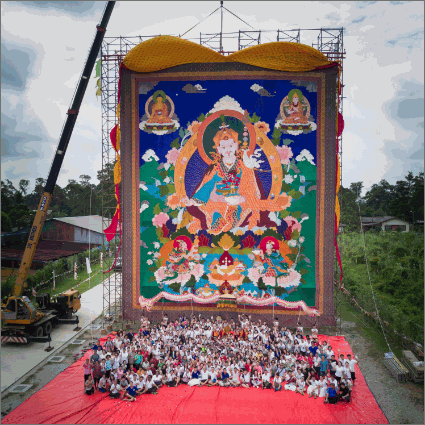 In 2010, Thekchen Choling commissioned an appliqué thangka of Guru Rinpoche (also known as Padmasambhava, "the Lotus Born") from Nepal, for the long life of the Gurus. The thangka depicts Guru Rinpoche accompanied by Shakyamuni Buddha, Lama Je Tsongkhapa and his two key spiritual consorts Princess Mandarava and Lady Yeshe Tsogyal. Standing at a height of seven storeys, it is the largest Guru Rinpoche thankga in Southeast Asia; more than 20 men are required to carry it.
It was unveiled for the first time in 2011 on Guru Rinpoche Day, i.e., the tenth day of the sixth lunar month. After 5 years, this thangka was yet again unveiled during the Guru Rinpoche Retreat 2017 at Thekchen Choling Malaysia (Kota Tinggi), where the public had the opportunity to receive blessings and inspiration.
Did you know: Guru Rinpoche has one main form and eight other manifestations? The main form is depicted in the thangka.
Singapore's Wish Fulfilling 1,000-Armed Chenrezig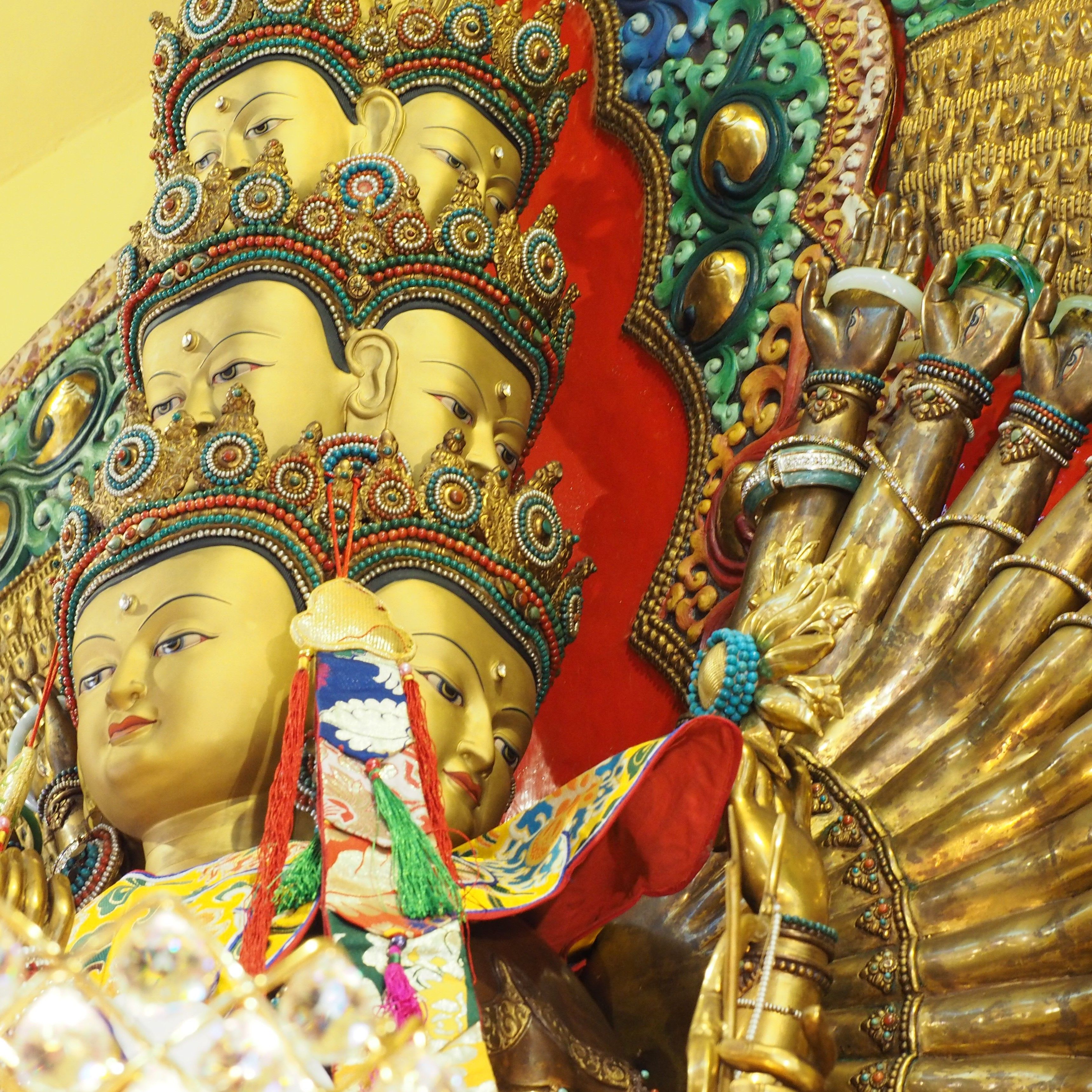 Standing at 2.3 metres, the Tibetan-style Thousand-Armed Chenrezig copper rupa is the largest of its kind in Singapore. It is crafted from copper and gilded with mercury gold. Thousand-Armed Chenrezig symbolises the Buddhas' boundless compassion for all sentient beings – his 1,000 arms with an eye on each hand and eleven heads are to seek, reach out and help those in need.
The rupa at Thekchen Choling was offered by a devotee who felt a special connection with Thousand-Armed Chenrezig. She sold off her jewellery collection to raise the funds needed to make the rupa, following deeply felt inspiration from Chenrezig. It was subsequently consecrated at the temple through the generosity of Sangyum Namdrol Lhamo.
A 200-Year-Old Jigong Bodhisattva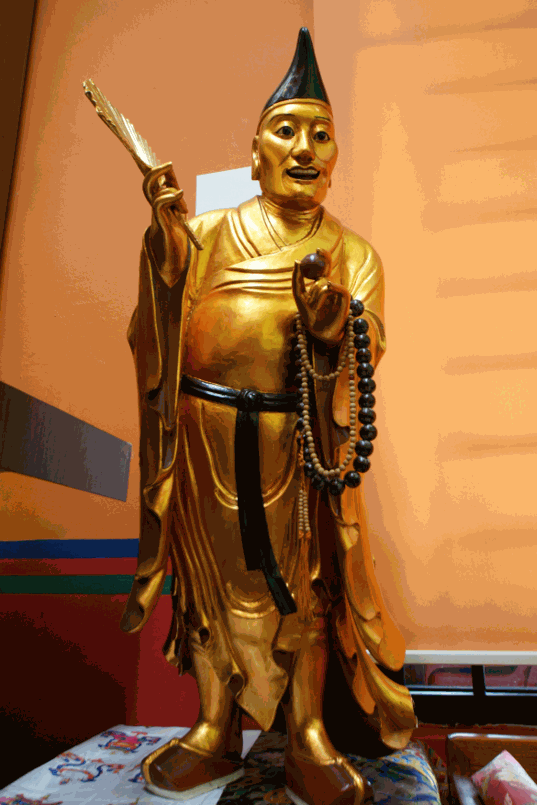 Tap on Photo for Rupa Details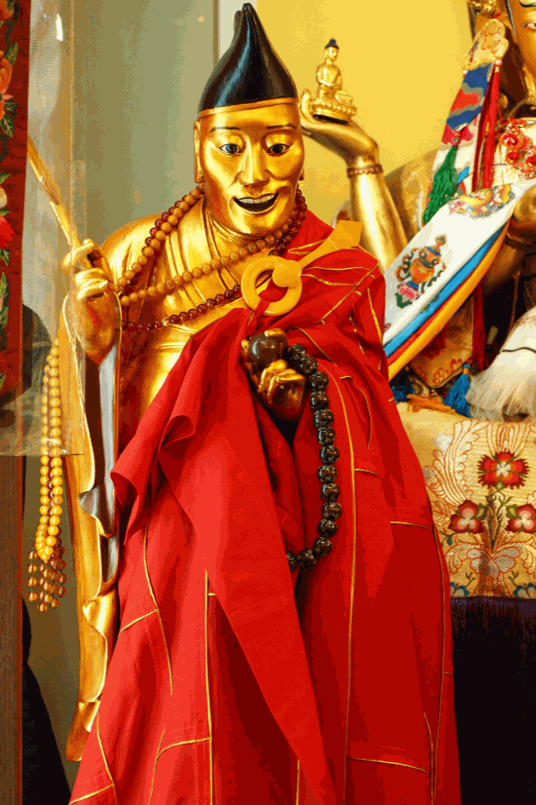 Tap on Photo for Rupa Details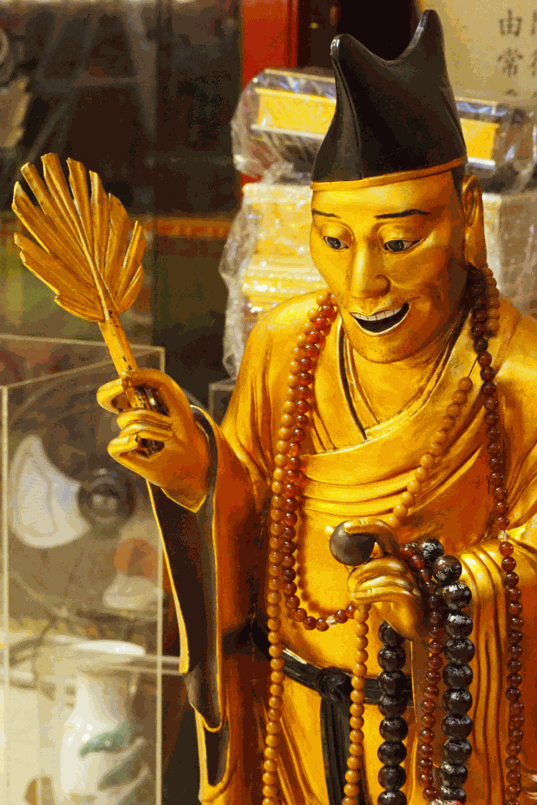 Tap on Photo for Rupa Details
When Thekchen Choling acquired its current premise from the previous occupants (custodians of a Jigong temple), one of the sacred objects it inherited was a Jigong Rupa.
Jigong, a highly realised Bodhisattva, was known for his eccentric personality and "crazy wisdom", while maintaining a compassionate nature. Physical evidence places the approximate age of the rupa at 200 years. Devotees from as far away as Taiwan have made their way to Thekchen Choling to pay their respects, and some even requested Singha Rinpoche for the rupa. Singha Rinpoche kindly declined the offer, as he is committed to ensuring that the Jigong rupa will always have a special place at Thekchen Choling.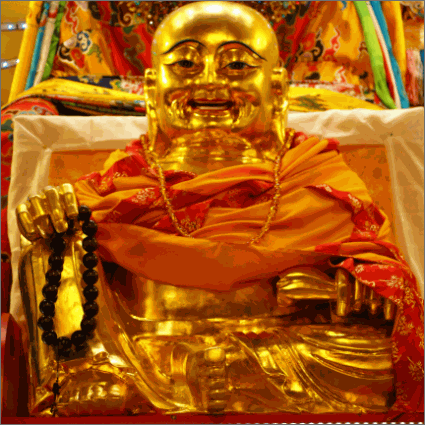 This antique Maitreya Arhat rupa, which is estimated to be about 200 years old, was offered to Singha Rinpoche at Thekchen Choling (Singapore) by a devotee.

The name Maitreya means "loving kindness" in Sanskrit. Arya Maitreya is a bodhisattva (one who purposely takes rebirth in samsara to benefit sentient beings) who will appear in the future, achieve complete enlightenment, and teach the Buddhadharma just as Shakyamuni Buddha did.
South-East Asia's Largest Thousand-Armed Chenrezig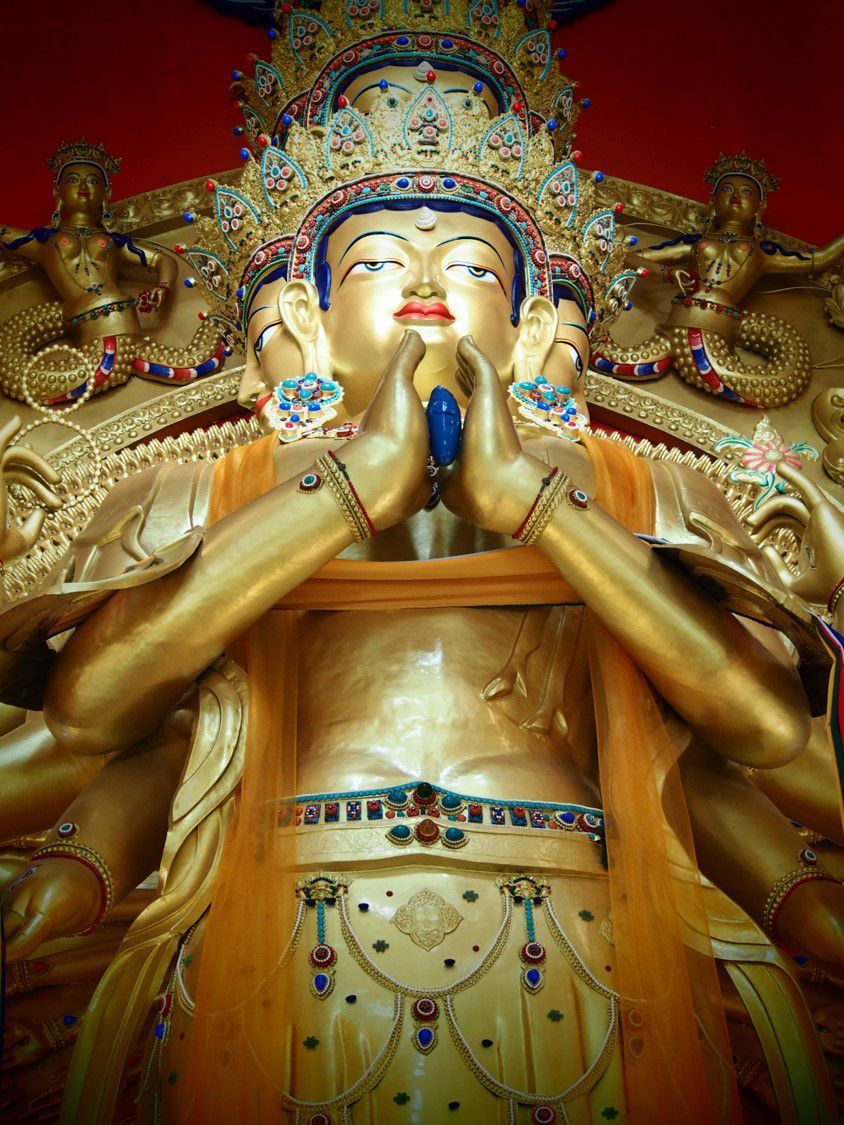 Tap on Photo for Rupa Details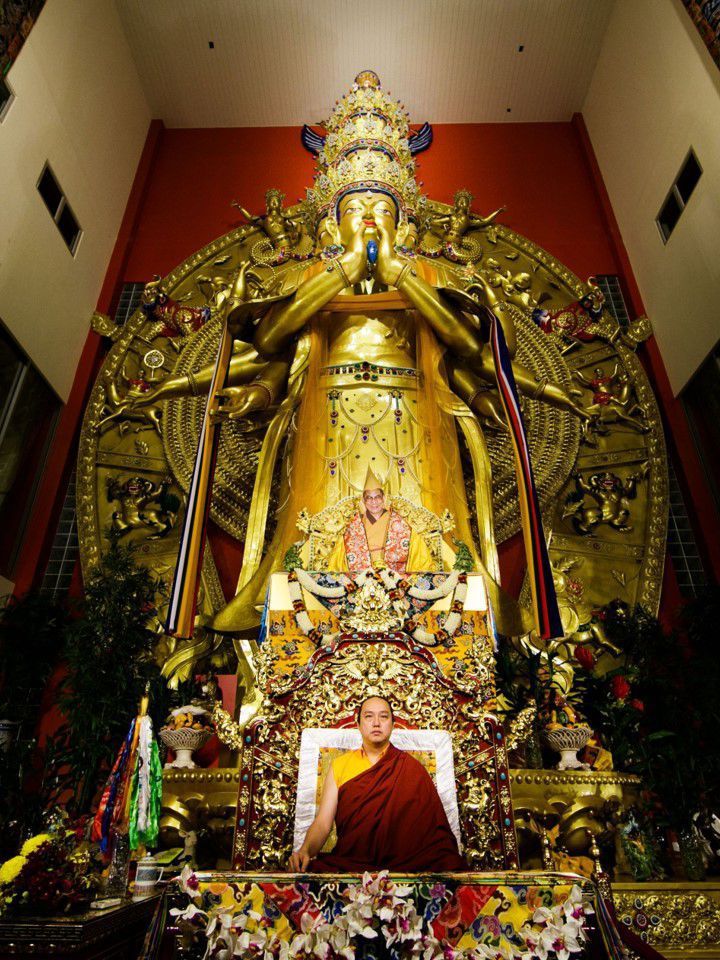 Tap on Photo for Rupa Details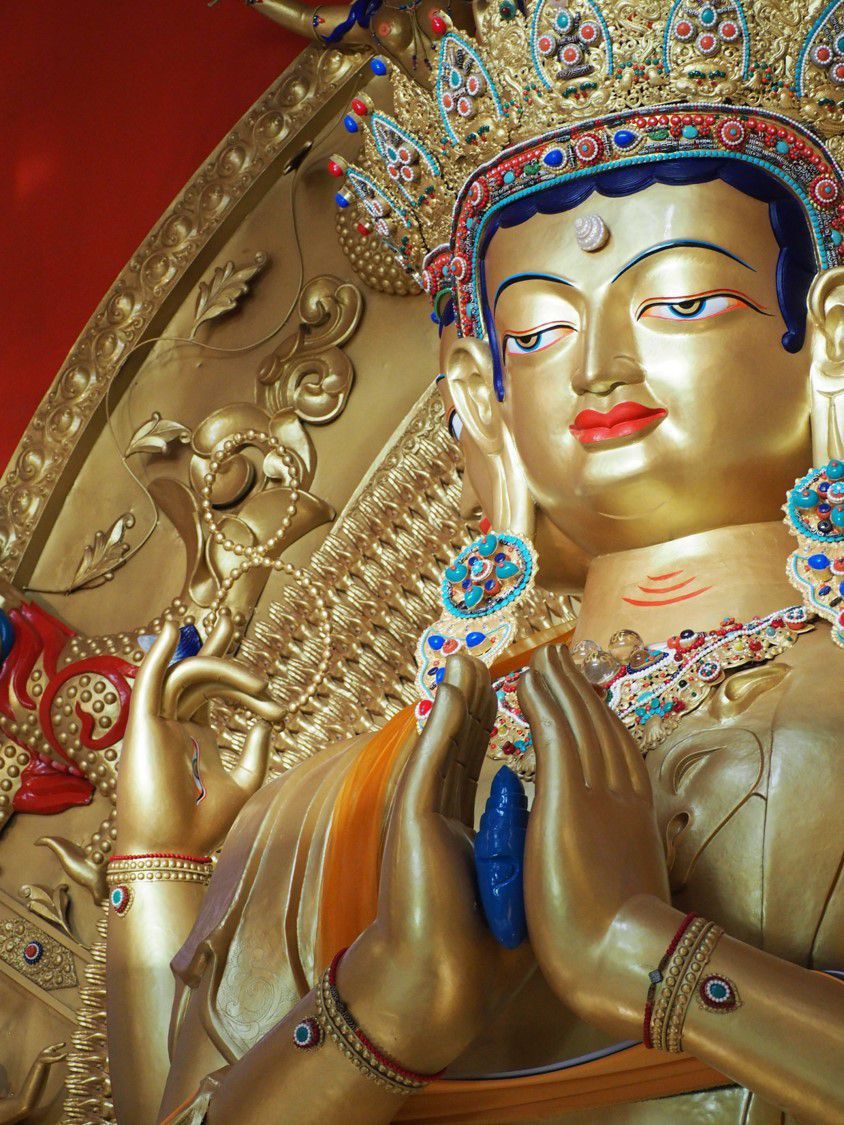 Tap on Photo for Rupa Details
Specially commissioned by Singha Rinpoche, this magnificent rupa of Thousand-Armed Chenrezig stands at
46
feet and is beautifully adorned with pearls, corals, turquoise and dzi-beads.
This rupa is the largest representation of Avalokitesvara in Tibetan style outside of Tibet and China that has been accurately represented and traditionally filled with tsung in the Vajrayana Buddhist tradition under the personal guidance of His Eminence the 6th Kyabje Jhado Rinpoche.
Within the statue are Dharma texts, precious relics and holy objects granted by His Holiness 14th Dalai Lama, His Holiness Sakya Trizin, His Holiness the 17th Gyalwang Karmapa Ogyen Trinley Dorje, His Eminence the 102nd Ganden Tri Rinpoche, His Eminence the 5th Dagri Rinpoche, His Eminence the 6th Kyabje Jhado Rinpoche, His Eminence Tsikey Chokling Rinpoche, His Eminence Kyabje Lama Thubten Zopa Rinpoche and many other precious lineage gurus.
The construction and consecration of this most holy rupa was auspiciously completed on May 2016 at Thekchen Choling (Malaysia) Kota Tinggi.