Celebrating Thekchen Choling Singapore's 20th Anniversary
欢庆新加坡大乘禅寺成立20周年
Join us for a sublime spiritual and celebratory experience as we celebrate our 20th year anniversary this year!
Thekchen Choling Singapore's anniversary is officially held on every 25th day of the 10th lunar month and for this year, it will be on 29 November 2021.
However, this year, our celebration will start from 27th November and we have an exciting line of activities lined up for you till 29 November 2021. Scroll down below to check out on our activities for this year's Anniversary Celebration.
20th ANNIVERSARY CELEBRATION NIGHT
On this joyous occasion of our temple's anniversary on 29th November at 8pm, we cordially invite all to join us for a milestone reunion to celebrate our journey together!

Guest of Honour
Ms Denise Phua Lay Peng, Mayor of Central Singapore District

Programme Highlights
• A special light ceremony led by our Spiritual Director Singha Rinpoche.
• Reliving the Thekchen Choling Story.
• Updates on our future developments.
• Cheers to TCCL's 20th Anniversary!
• World premiere of an original music video produced by our own talents!


Look out for more details on our telegram channel and social media!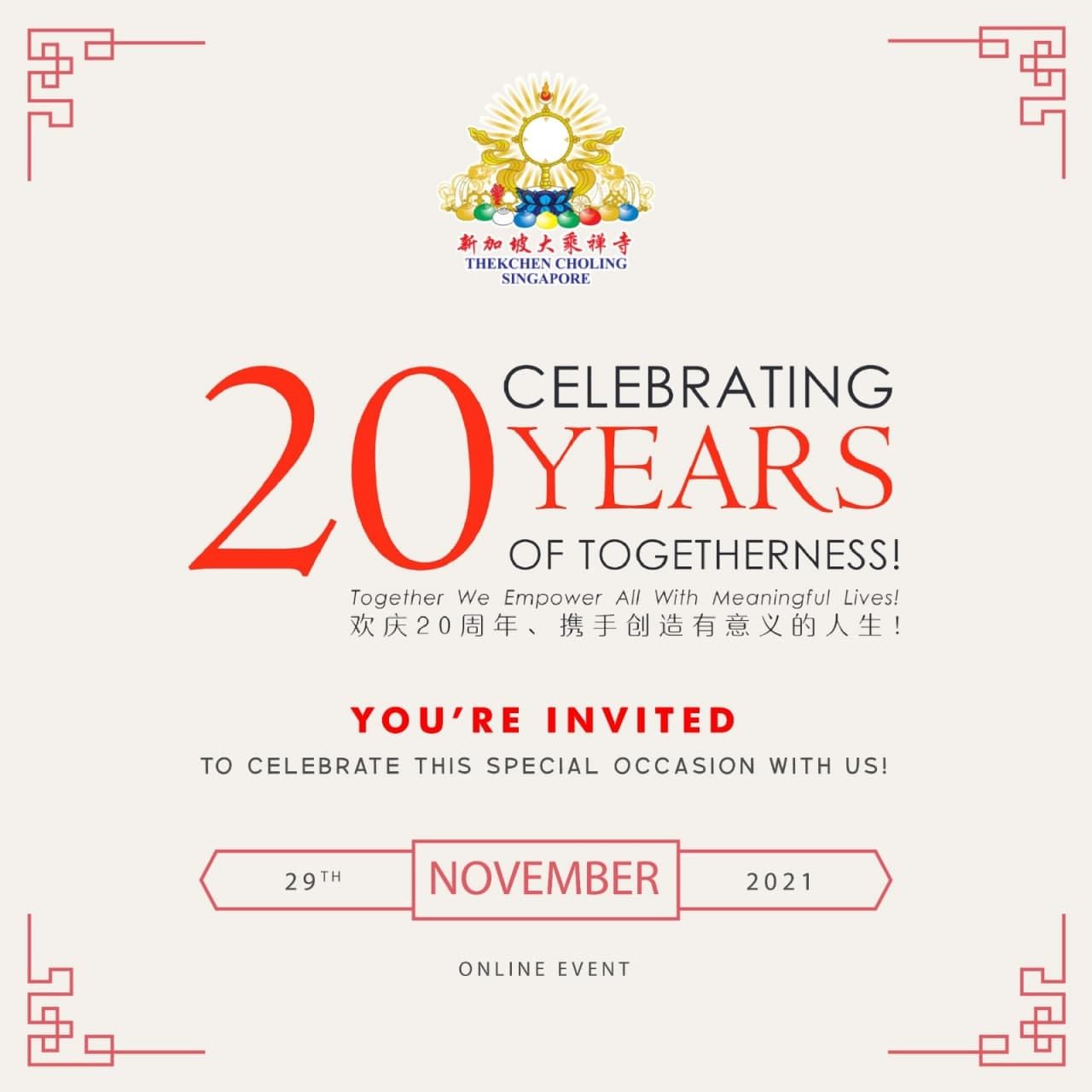 The Grand Sanctification Ceremony of Chundi
27 Nov 2021@ 5am - 29 Nov 2021@ 3pm


As advised by H.E. Jhado Rinpoche, Chundi Buddhi is the patron deity of Thekchen Choling. He had especially transmitted the esoteric lineage of Chundi to our Spiritual Director Singha Rinpoche, thus establishing a direct connection between our temple and Chundi practice.

In celebration of Thekchen Choling Singapore's 20th Anniversary, we will be holding The Grand Sanctification Ceremony of Chundi to make strong supplications to Chundi for bestowing multitudes of blessings and benefits.

Through this special ceremony, we pray for the happiness of all sentient beings, long and stable lives of our Lineage Gurus, as well as the quick fruition of all virtuous wishes of our sponsors and devotees.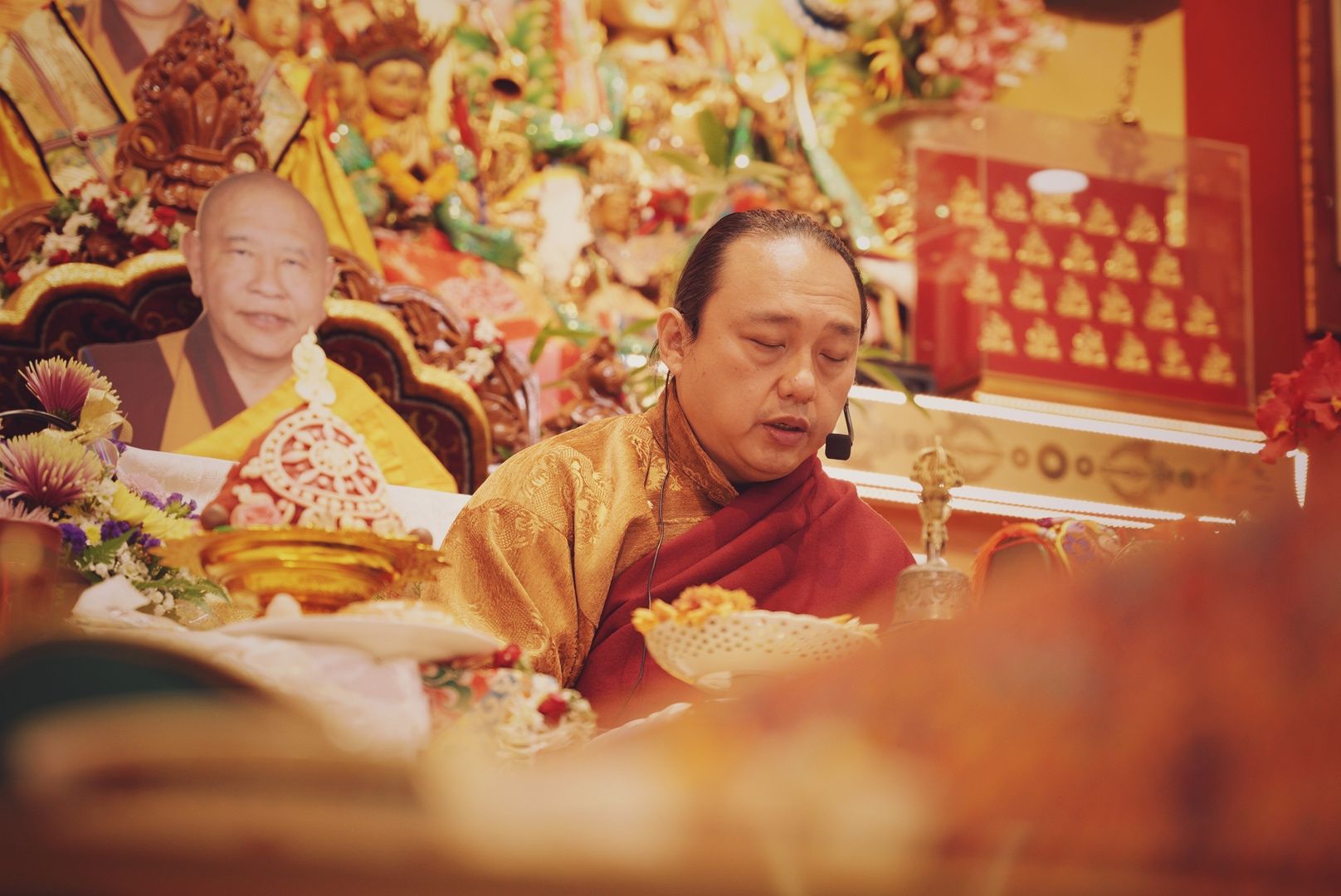 We are happy to inform everyone that all on-site registration time-slot is fully filled!
Do join us on FB Live for merit accumulation together!
If you are not able to join us physically at the temple, do join us on Facebook Live scheduled as follows:
27th Nov - 9am - 11am
27th Nov - 9pm - 11pm
28th Nov - 9am - 11am
28th Nov - 9pm - 11pm
29th Nov - 9am - 11am
29th Nov - 1pm - 3pm

Benefits of this Chundi Ceremony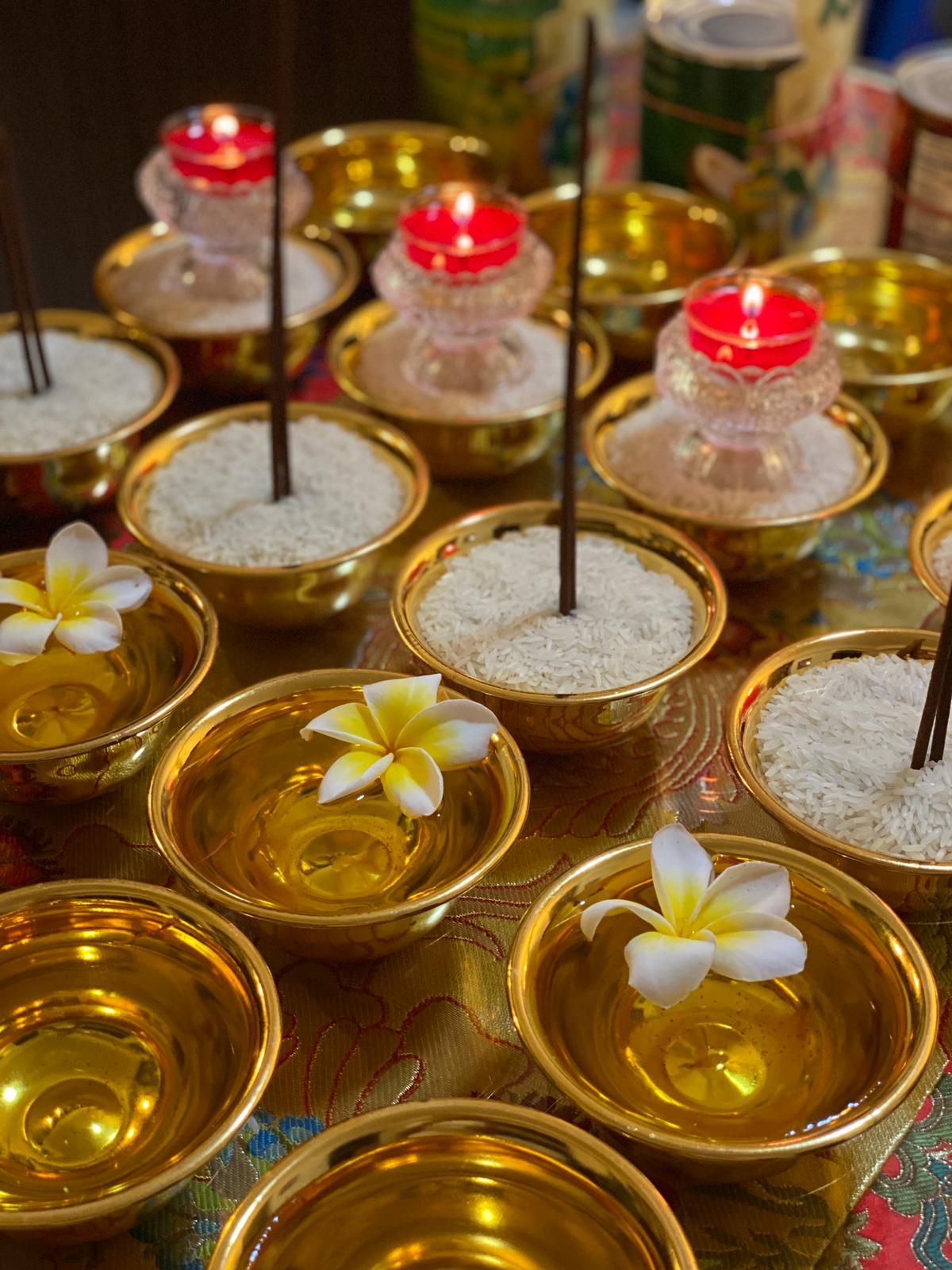 Chundi has been highly revered since ancient times for her powerful blessings in granting spiritual and worldly successes. Hence, one may request Chundi to gain Dharma realizations, growth in businesses or personal careers, having a harmonious family, or having good interpersonal relationships through making offerings and supplicating to Chundi in this ceremony.

By making sincere confessions to Arya Chundi, we can purify mountains of negative karma, including karma accumulated from our broken vows. Chundi helps to dispel misunderstandings and hatred within us and towards others that has risen from holding onto wrong views. Also, Chundi protects us from life obstacles caused by non-human entities and is able to transform all adverse conditions into auspicious ones.

Acquire all of Chundi's blessings and benefits by bearing a special blessed emblem – The Holy Amulet of Lhamo Chundi.


Offer a Holy Amulet of Lhamo Chundi & more auspicious offerings here.