Dharma Courses
Learning with Thekchen Choling

Our courses aims to provides the knowledge and understanding that helps you discover your Buddhist journey
DHARMA FOR YOU

Our courses are thoughtfully designed to give you quality teachings,
providing you with the knowledge and understanding you need for your Buddhist journey.

UPCOMING COURSES FOR 2022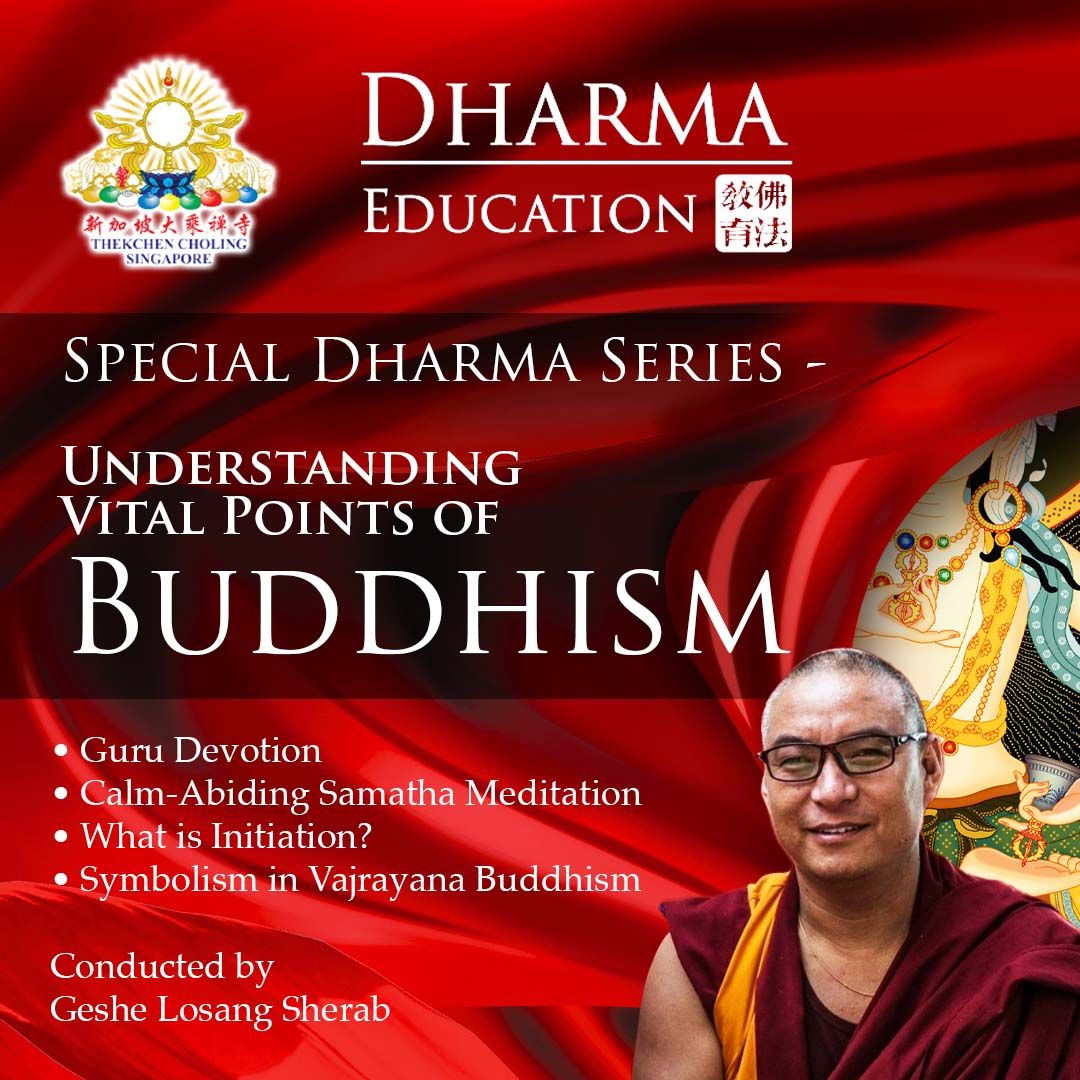 Special Dharma Series - Understanding Vital Points of Buddhism
by Geshe Losang Sherab
A four-session special dharma series provides learners with further insights of Vajrayana Buddhism, introducing the topics of Guru Devotion, Calm-abiding Samatha meditation, initiation and understanding the symbolism in Vajrayana Buddhism.
Instructor:
Geshe Losang Sherab is a highly respected member of the Kopan Monastery sangha and holds Master's (Geshe) degree in Buddhism. Geshe Sherab is the chanting leader (Umze) at Kopan Monastery and is one of the main teachers for courses at Kopan.
Dates and time:
25 Jun (Sat) 2pm to 4pm – Guru Devotion
28 Jun (Tue) 8pm to 10pm – Calm-Abiding Samatha Meditation
2 July (Sat) 2pm to 4pm: What is Initiation?
5 July (Tue) 8pm to 10pm: Symbolism in Vajrayana Buddhism
Venue: Onsite at Thekchen Choling Temple Main Hall @2 Beatty Lane Singapore 209945
Suggested Course Donation (contribute to Dharma Propagation Fund): $20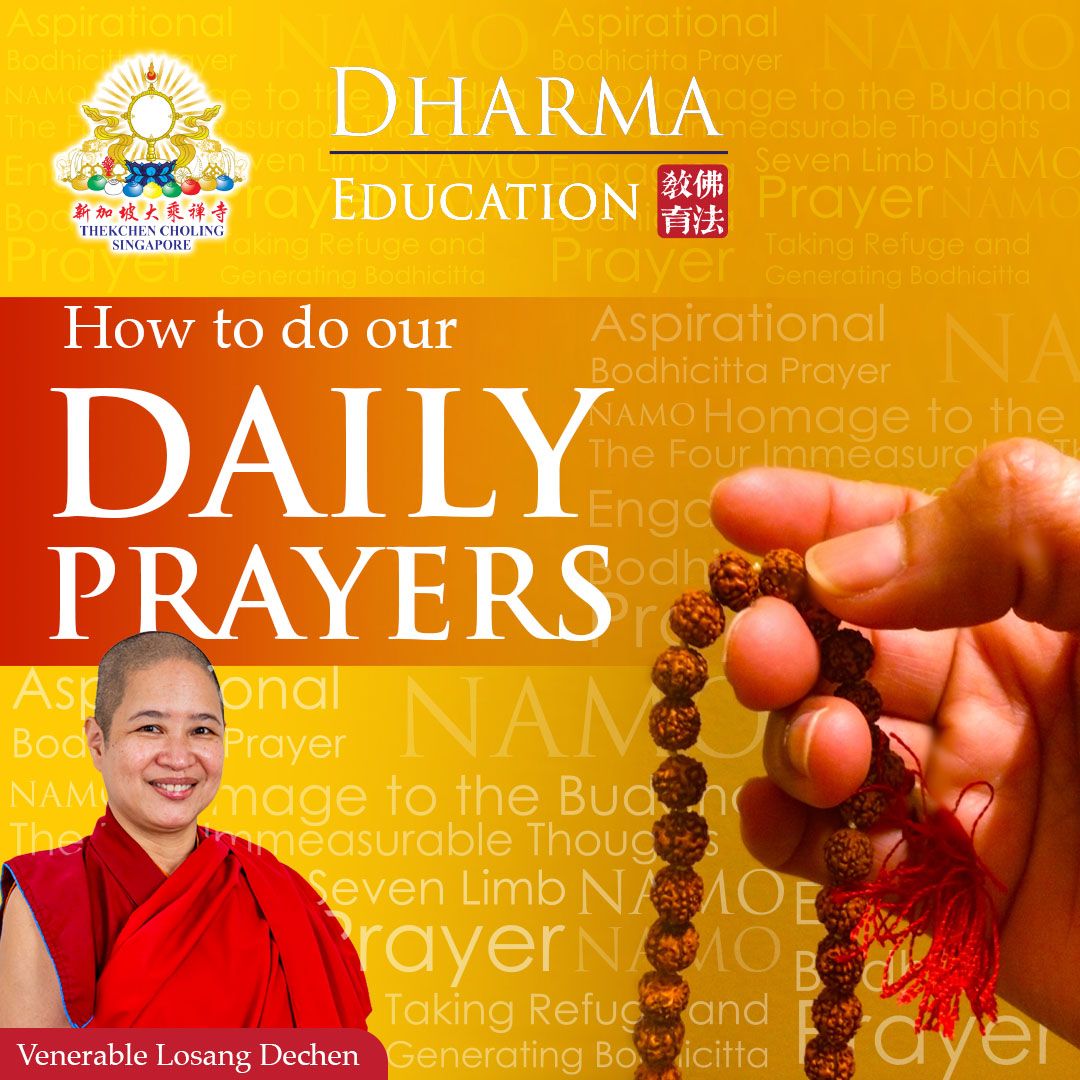 How to Do Daily Prayers
New to Buddhism and have just taken refuge? Unsure of how to start your daily dharma practice?
Join Venerable Losang Dechen on this introduction class for beginners to start their daily prayers such as the Shakyaumuni Buddha morning prayers and other prayers and mantras.
Introducing Instructor:
Ani Losang Dechen was ordained in 2006. Since young, Anila has always been interested in religion and spiritual matters. After she came to Thekchen Choling, the urge became more pronounced and she became more dissatisfied with the householder's way of life. Upon consultation with Singha Rinpoche, Rinpoche suggested her to consider the monastic path. From then, she became a nun at the temple. Anila has since then been active in organizing Dharma activities of chanting, prayers, pujas, house & company blessings and animal liberations. She is also involved in the translation of texts and sutras.
Date: 16 July 2022 (Sat) 2pm to 5pm
Venue: 147 Tyrwhitt Road Level 2 Classroom
Held Onsite in English.
Suggested Course Donation (contribute to Dharma Propagation Fund): $10

Register Now at www.thekchencholing.org/DEcourse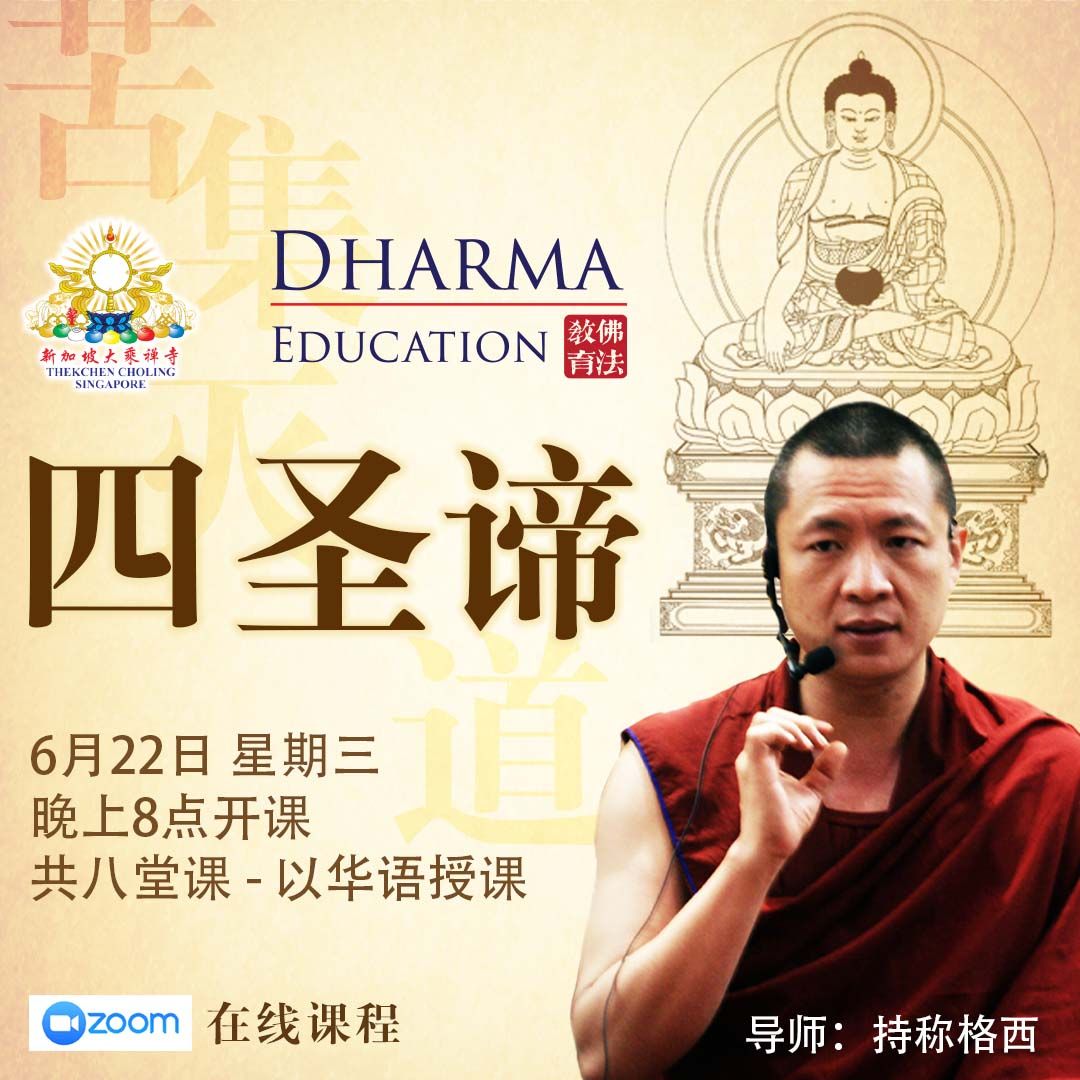 四圣谛线上课程
四圣谛课程简介:
什么是四圣谛 ? 持称格西(Geshe Kangyur )将在线上为我们开示讲解佛陀成道后,初转法轮时所宣讲的教法。
导师简介
:
持称格西于 1991 年到印度和尼泊尔参访学习,并于尼泊尔柯槃寺 (Kopan Monastery) 剃度,同年进入印度色拉杰学院 (Sera Jey Monastic University) 学习佛法哲学与心理学,在负笈十八年的光景里学习了因明学、心类学与五部大论:现观庄严论、入中论、释量论、戒论、俱舍论。中间也到过哲蚌寺、甘丹寺等其他寺院参访学习。 2009 年,完成所有学习并且得到格鲁派传承认可的格 ⻄ 学位 ( 佛学博士学位 ) ,之后也进入上密院学习密乘教法与仪轨。目前格西主要于香港、台湾等地教导佛学 。
日期:
22/6, 29/6, 6/7, 13/7, 20/7, 27/7,3/8, 10/8 (星期三)
时间:8点至9点半(可在8点上线,开始课前诵经,8点半准时开课)
一共八堂课。课 程以华语授课。
报名方式:
请点击链接
www.thekchencholing.org/DEcourse
或到本寺柜台报名。
课费: S$50 ( 全数捐予本寺弘法基金 )
课程将通过
Zoom
平台于线上进行,链接将在报名后以电邮方式通知
。
请点击报名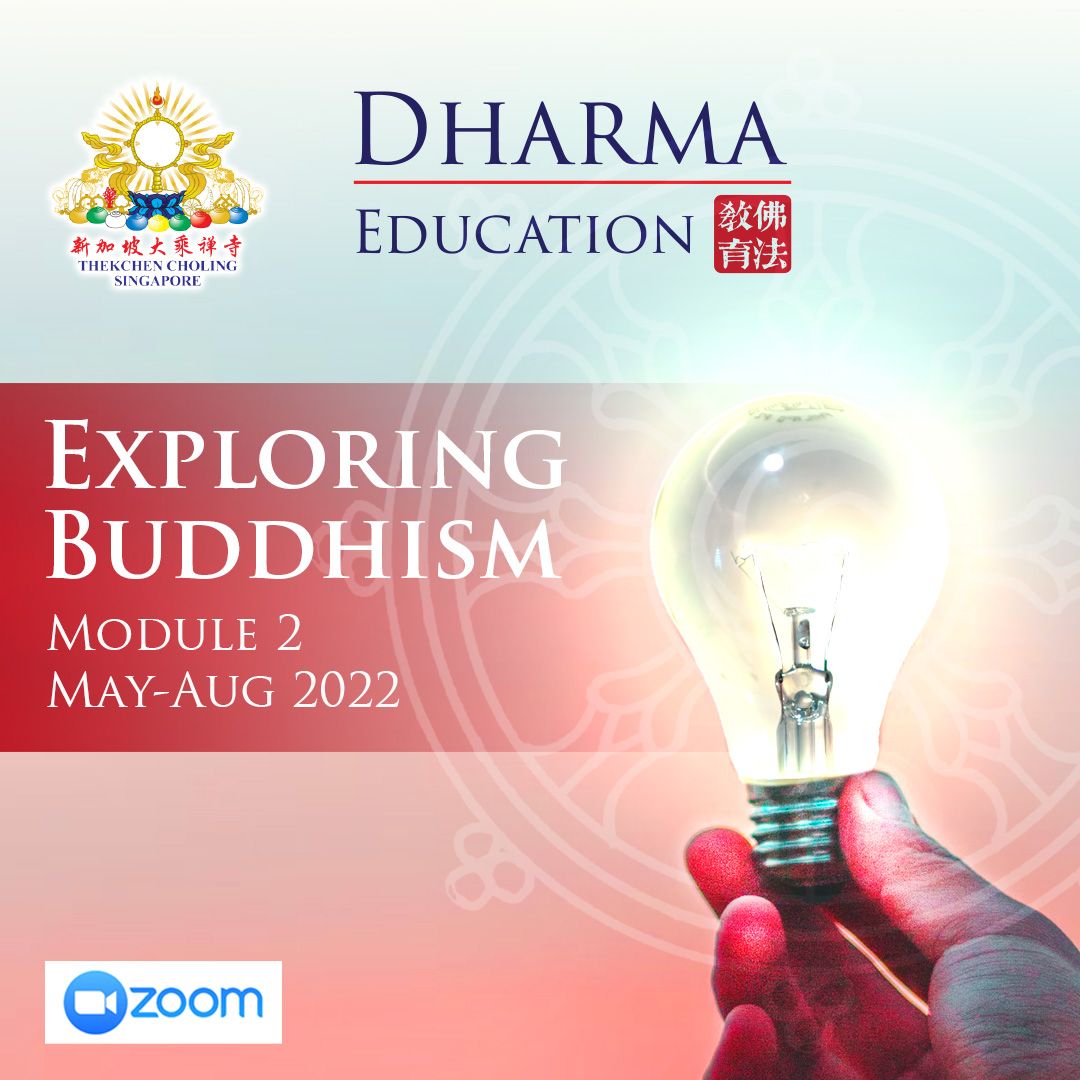 Exploring Buddhism Module 2
The Exploring Buddhism Course provides learners with a basic understanding and appreciation of Buddhism. Then it further explores the teachings of Buddhism in the Mahayana context, and empowers the learners with the necessary knowledge and understanding that is the essential Mahayana foundation. There are 3 Modules of this course. There will be 14 lessons for Module 2.
Introducing our Dharma Instructor: Dorje Tenzin
Dorje Tenzin, a senior student of Singha Rinpoche, was not born into a Buddhist family. Some 20+ years ago karmic causes and conditions has led him to Singha Rinpoche and the teachings of Buddha. At the direction of Guru, Singha Rinpoche, he will play the role of student sharing what he has learnt and experienced from his teachers.
Module 2 will cover the following topics:
The 3 Principal Aspects of the Path -
Introduction

Renunciation

Bodhicitta

Right View of Emptiness
Date of 14 lessons: 21/5, 28/5, 4/6, 11/6, 25/6, 2/7, 9/7, 16/7, 6/8, 13/8, 20/8, 3/9, 10/9, 17/9 (no lesson on 18/6, 23/7, 30/7 & 27/8)
Time: 11am to 12.30pm
Class will be conducted in English online via Zoom.
Register Now at www.thekchencholing.org/DEcourse

Suggested Course Donation (contribute to Dharma Propagation Fund): $60
Course details and zoom link will be sent via email upon confirmation.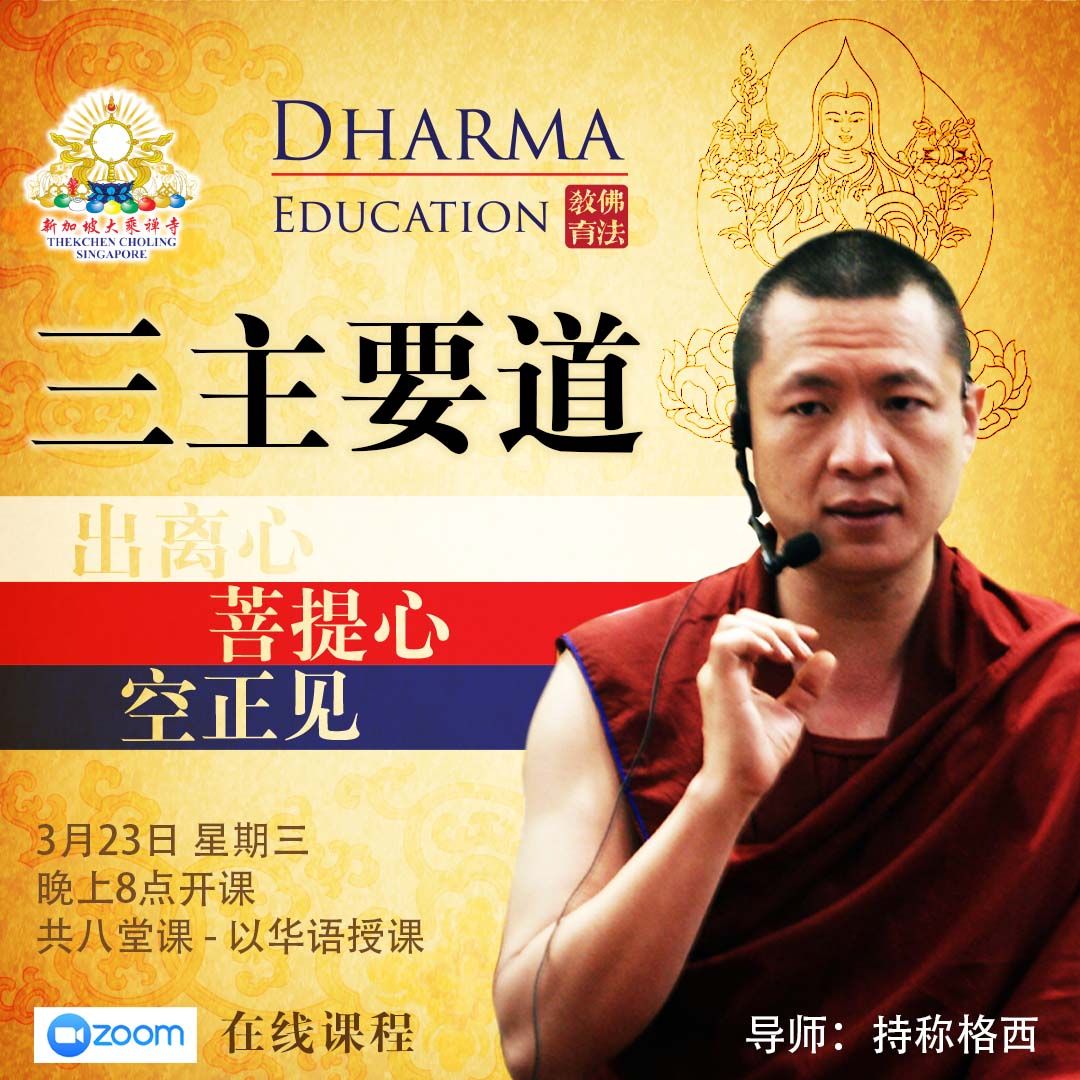 三主要道线上课程
三主要道课程简介:
所谓"三主要道"分别是:出离心、菩提心、空正见。总摄一切佛经的法要,也是"菩提道次第"的精要,是文殊怙主传授给宗喀巴大师的不共教授而作的。文殊怙主把一切教言摄为三主要道而教导宗喀巴大师,宗大师再把此心要传授给予侄子语自在称。对一名向往解脱甚至究竟成佛的修行人来说,"三主要道"是必经之路,没有别的比此更重要的途径。
主讲者:
在1991年,持稱格西十八岁到印度和尼泊尔参访学习,并于尼泊尔柯槃寺 (Kopan Monastery)剃度,同年进入印度色拉杰学院 (Sera Jey Monastic University) 学习佛法哲学与心理学。并于十八年中学习因明,心类学和五部大论: 现观庄严论,入中论,释量论,戒论,俱舍论。中间也到过哲蚌寺,甘 丹寺等其他寺院参访学习。 2009年,完成所有学习并且得到格鲁派传承认可的格⻄学位(佛学博士学位),之后也进入上密院学习密乘教法和仪轨。现在主要于香港、台湾等地教导佛学。
日期: 23/3, 30/3, 6/4, 13/4, 20/4, 27/4, 4/5, 11/5 (星期三)
时间:8点至9点半(可在8点上线,开始课前诵经,8点半准时开课)

八堂课。课程以华语授课。
报名方式:
请上线于网址:www.thekchencholing.org/DEcourse 或到寺庙柜台报名。
课程费捐赠予寺庙弘法基金: SGD50
课程将以Zoom软件于线上授课。
Zoom 的课程链接将在报名后以邮件方式通知。
报名已截止.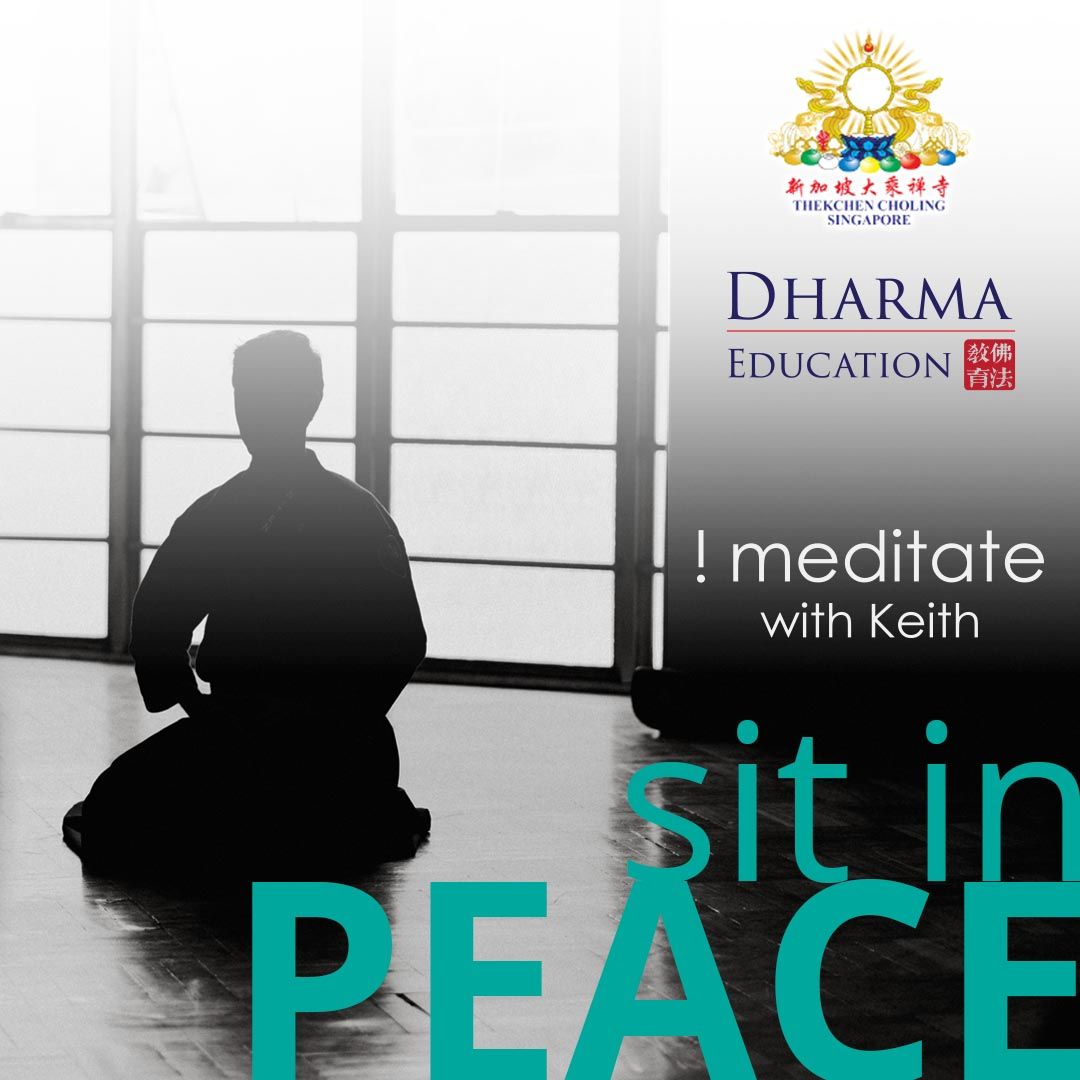 Introduction to Meditation with Keith禅修入门课程
Feeling hectic in your busy lifestyle? Want to take a breather and calm your mind?
Join our four-lesson Introductory Meditation Course led by Dharma Brother Keith Cheung, aimed at helping learners to acquire some basic techniques to develop concentration and mindfulness.
Let's practise mindfulness together as we learn about breathing techniques, sitting and walking meditation.
在忙碌的生活中,你感到疲惫吗?你想喘口气,寻找内心宁静吗?欢迎参加为期一个月,共有四堂课的【禅修入门课程】,在导师Keith师兄的指导下,一起学习培养禅定力与正念力的基础步骤。让我们一起通过观察呼吸、坐禅与行禅,逐渐稳固地安住于正念。
The course will be conducted on-site. Registration is required, limit to 15 participants per session. All participants are required to be fully vaccinated*.
此课程为实体活动,每时段仅限 15 名参与者现场出席。有兴趣参加的朋友请尽早报名。
所有参与者必须已完成疫苗接种。
*
Register Now at 请点击此链接报名: www.thekchencholing.org/DEcourse
Course Fee 课程学费 :Free of Charge免费
We welcome any amount donation, contributing towards the Dharma propagation Fund. 我们欢迎任何数额的乐捐,献予本寺的"弘扬佛法基金"。
About the Instructor 导师简介:
A disciple of Singha Rinpoche since 2005, Keith's expertise as an entertainer was put to good use when he was invited by Thekchen Choling Youth Group in 2012 to coach them in singing, dancing and acting. This experience ignited his passion in teaching. He then started to teach our yearly Basic Buddhism courses from 2014. Having a keen interest in meditation, Keith actually started attending retreats in Thailand even before he became a Buddhist; and has led and facilitated meditation practices and retreats with Thekchen Choling Singapore and Melaka since 2016.
课程导师Keith师兄(张颢议)自2005年起随鑫和仁波切修学佛法。于2012年,当时从事专业表演工作的 Keith受邀担任大乘禅寺佛法青年班的歌唱、舞蹈与演艺导师。这段经历点燃了他对教学的热忱,遂而于2014年起开始执教本寺的佛教基础课程。Keith 对禅修的浓厚兴趣,他在成为佛教徒之前早已萌芽。这促使他多次远赴泰国修学并进行闭关,累积了丰富的禅修经验。2016年开始,Keith屡受新加坡大乘禅寺与马六甲道场之邀,担任各项共修与闭关活动的禅修导师至今。
Date 日期 :
10/4, 17/4, 27/4, 1/5 ( Sunday 星期日 )


Time 时间:
Mandarin Class 华语班: 2.30 pm to 4pm
English Class 英语班 : 4.30pm to 6pm
Venue 地点 :
Thekchen Choling Singapore , Tyrwhitt Road 147A
( 2nd Level Classroom 二楼课室 )


Registration is closed.
Ritual Series: How to use Dorje, Bell & Damaru
Have you been initiated in the Vajrayana practice and unsure how to use the ritual implements such as dorje, bell and damaru? Find out about the significance of these implements in ritual practices and how to use them. Discover more with Geshe Tenzin Nyima and Venerable Thubten Chodron, who will be sharing with us.
Date: 25 April 2021 (Sun) 2pm to 5pm
Instructors: Geshe Tenzin Nyima & Venerable Thubten Chodron
Venue: Temple Main Hall
Course Donation to Dharma Fund: $20
Limited no. of pax: 20
Register at this link: www.thekchencholing.org/DEcourse
Pre-requisite: This class is only open for Buddhists who have taken Vajrayana initiations, especially for students and disciples of Singha Rinpoche.
Register now! Closing Date: 18 April 2021 7pm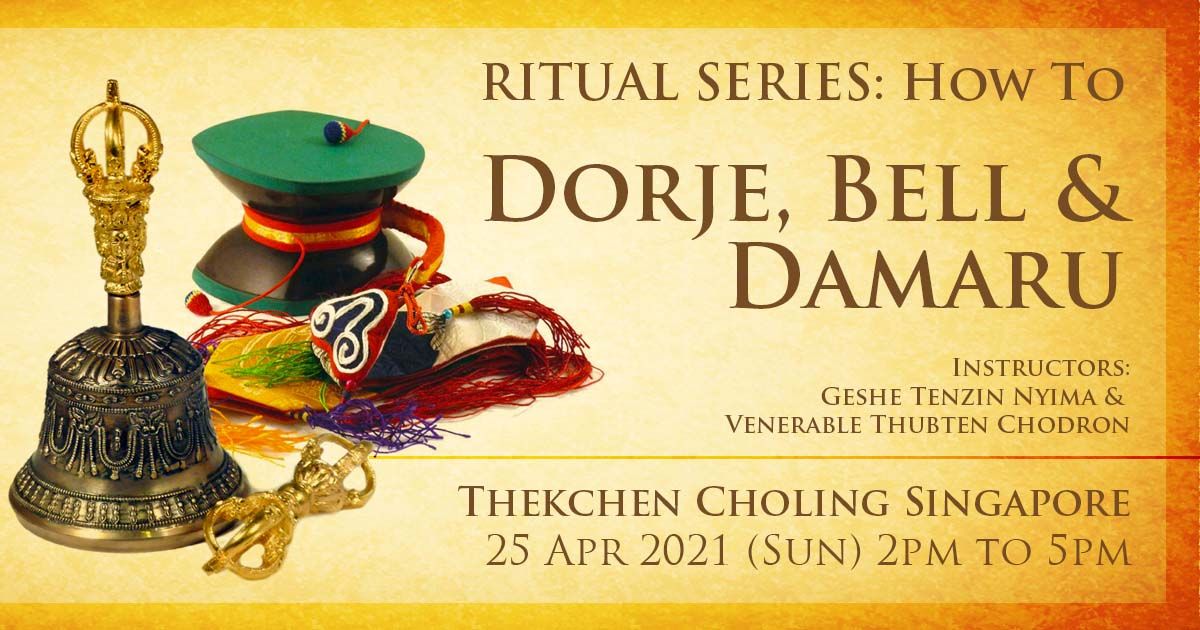 "The only true wisdom is in knowing you know nothing."
-Socrates-