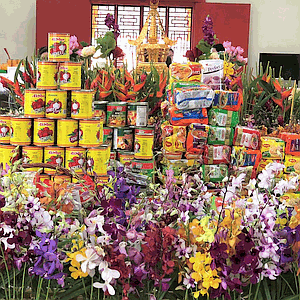 TSOG OFFERING

In Vajrayana tradition, the offering of Tsog is one of the most profound ways of purification and creating positive conditions during the retreat. This year, part of the proceeds will go to the Red Cross India Covid Relief Fund.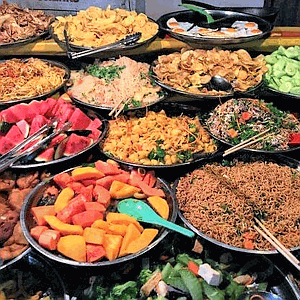 THANKSGIVING MEAL OFFERING

Offer Thanksgiving Meal-Offering for Rinpoche, Sanghas & Broadcasting Team during this special Online Retreat.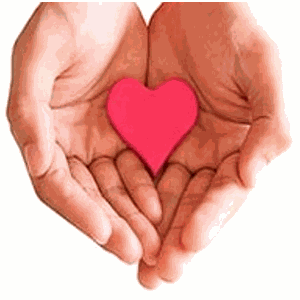 DONATE TO THE EVENT

Make donations towards the operation of this online Guru Bumtsog Ceremony. Your generous donation helps to make this event better every year!

100,000 Grand Guru Bumtsog Ceremony
- Accumulating 100,000 Offerings Contribution of Tsog Prayers -
Why practice 100,000 Bumtsog Offering?
Guru Bumtsog Ceremony is also known as the invocation of blessing from Guru Rinpoche. This is one of the highest forms of prayer to Guru Rinpoche to transform us and our surroundings. It helps to transform any anger or impure thoughts we might have and also purify the space we are living in.
Many great lamas perform Guru Bumtsog Ceremony to prevent any wars and epidemics from happening. Practitioners gather to meditate, making offerings, and ritually feast together to accumulate vast amount of merits to overcome any life-threatening obstacles we might face and accumulate wisdom to aid us in our path to Enlightenment.
"For anyone, Man or Woman, who has faith in me, I, the Lotus-Born, have never departed - I sleep on their threshold."


Guru Rinpoche

Let's find out what are the Top 10 Benefits of joining GBC!
1. Surround yourself with Positivity.
Get ready to immerse yourself and be surrounded in the vast amount of positive energy from the global retreat participants!
2. Commit & Deepen your Practice.
This retreat allows you to commit to practice with a group of like-minded people where you can tap on the group's support while deepening your practice.
3. Stop Anxiety, Feel the Peace.
The practices & teachings during the retreat will help bring strength and serenity to calm your anxious mind.
4. Connect with Guru Rinpoche.
Guru Rinpoche's blessings are known to be swift & powerful. You will learn more about Guru Rinpoche and truly experience great blessings!
5. Lead life with a purpose - Pray for the world.
Join forces to pray together for the world's pandemic situation to be quickly resolved and for the cure of COVID-19 swiftly be found.

6. Open your Heart to receive Blessings.
As we connect on a deeper level with Rinpoche, the positive energies generated through this prayer open our hearts & mind to receive blessings of Guru Rinpoche.

7. Connect with "Self"
A retreat is a time you give yourself to reflect upon the dharma and to get to know your self better. Learn how to connect deeper within you through the teachings, practices and prayers during this GBC 2020.

8. Learn about Tsog Offering to Guru Rinpoche.
Tsog Offering is more than just food offering. Learn more about the significance of this offering and other insightful teachings during this retreat.

9. Meet new people.
Meet like-minded people and create meaningful and fulfilling friendships with people from around the world.

10. Make Your Home Your Retreat Space.
Join us in the bonus segment where you will learn how to set up a sacred retreat space in your own home by yourself. Imagine creating a sacred retreat space right there in your own home

100,000 Grand Guru Bum Tsog Ceremony 2020



"I am present in front of anyone who has faith in me, just as the moon casts its reflection, effortlessly, in any vessel filled with water."


Guru Rinpoche